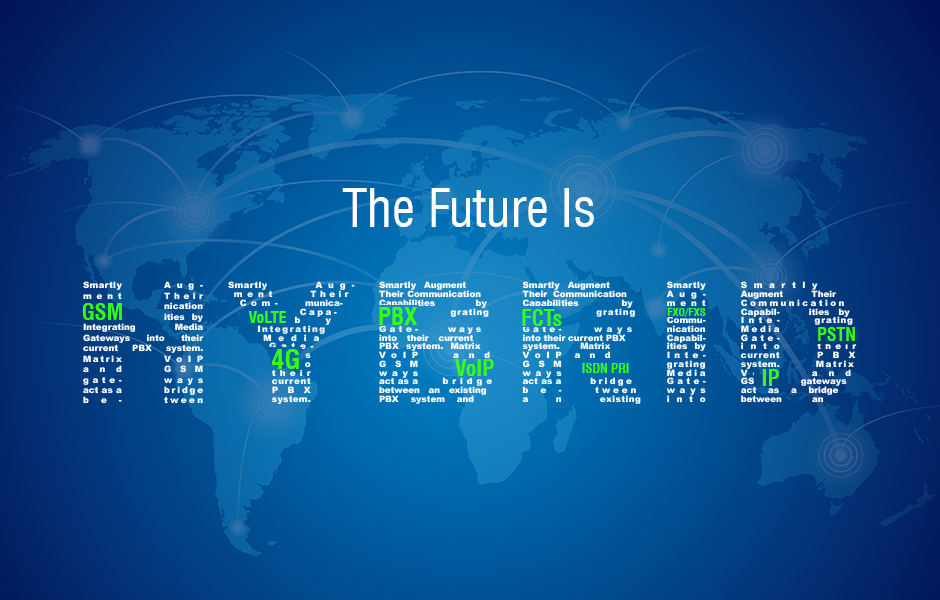 The ever-changing technology makes an enterprise take drastic steps to establish complete control over their communication systems. Presently, it is extremely difficult (maybe impossible) for an organization to shift its entire Unified communication to VoIP, the latest technology. However, there are many factors to consider before taking this step, such as current investment on their on-premises set up, compatibility with existing architecture, systems, and hardware, as well as factors like the cost of implementation, user adoption, and security concerns. As a result, organizations adopt a hybrid UC environment, which gives a 'best of both world's' experience. Communication systems that are flexible enough to accommodate out-dated infrastructure as well as make most of the modern technologies are shaping up the future.
Flexibility and security being the primary requirement, Matrix VoIP Gateways enable an enterprise to augment their communication capabilities smartly. Enterprises are inclined to avail benefits of IP networks while protecting their existing investment against changing communication technologies. The new Matrix SETU Gateways interfaces VoIP with GSM/3G, POTS and ISDN networks to provide an integrated platform.
FXO vs. FXS Gateway
Firstly, FXO (Foreign Exchange Office) and FXS (Foreign Exchange Subscriber) are the names of the port used by analog phone lines. 
Then, FXS is the port that delivers the analog line to the subscriber. Simply, FXS is the 'plug in the wall' that delivers a battery current, ring voltage and a dial tone.
FXO (Foreign Exchange Office) is the port that actually receives the analog line. This is just like a 'plug on the phone' that has an on-hook/off-hook indicator. The FXO establishes the connection to the analog line (FXS).
Now, FXO Gateway connects analog phone lines to an IP phone system. This allows you to connect the FXS port to the FXO port of the gateway, which then translates the analog phone line to a VoIP call.
What is a VoIP FXO/FXS Gateway?
The VoIP FXO/FXS Gateway interfaces with an existing PBX system via FXO/FXS, PRI, or over IP. A Gateway is an adjunct to existing telephony infrastructure, with no or minimal replacement of the existing equipment. It saves not only additional investment in acquiring new equipment, but also time and efforts required for the reinstallation of the system and retraining their users. On top of that, when a Gateway is connected with any existing PBX, it remains entirely transparent for all users and allows them to make and receive calls and use the same PBX features.
Functions of VOIP FXO-FXS Gateways
A Gateway connects TDM based telephony infrastructure to an IP network. The functions of a VoIP gateway primarily include fax over IP support, call routing and signal processing. It is an adjunct to the traditional or existing PBX systems and does not require users to change existing equipment.
Let us take the below diagram for an example: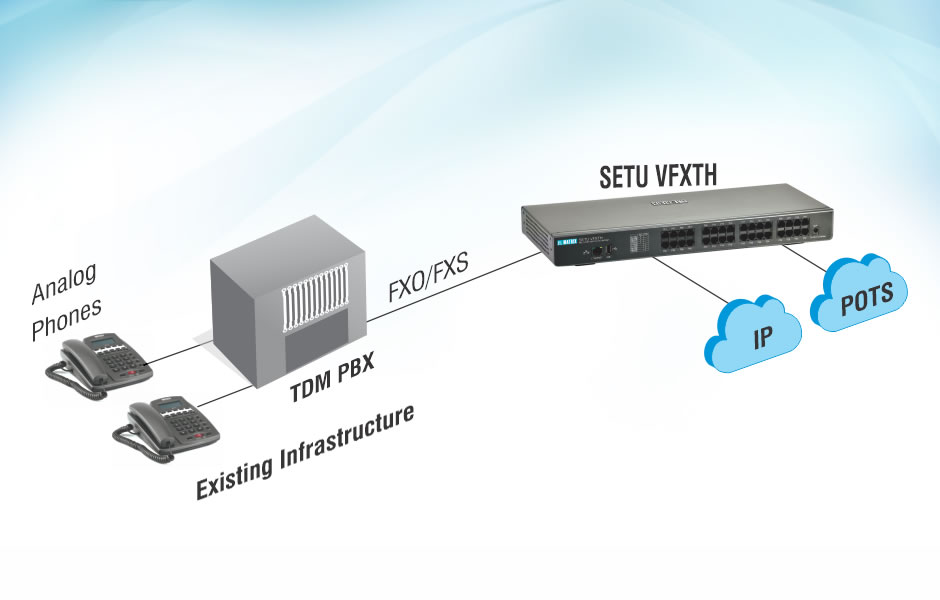 Consider SETU VFXTH is a Media Gateway and TDM PBX is your legacy communication equipment. Now, SETU VFXTH connects TDM PBX infrastructure to an IP network. For organizations that have already migrated to IP, SETU VoIP Gateways provides POTS trunking option. Ideal for legacy TDM phone systems, these Gateways offer access to new generation VOIP and benefits of low-cost long-distance calls."
Matrix VoIP Gateway Feature Highlights
VoIP Gateways have numerous features that make your communication easy to manage and imparts an unmatched communication convenience. Here are some of the features that you can look forward to in a VoIP gateway:
Call Detail Records of 2,000 Calls
Caller ID Presentation on Analog Station
Emergency Number Dialling
Fax Over IP (T.38 and Pass-through)
Hotline Extension Setting
Make and Receive Calls Using Analog Terminals over the IP Network
Port Forwarding and DMZ
PSTN Pass-through Port to make Calls Over POTS during IP Network Outage
Restrict Unwanted Calls with a List of Denied Numbers
If you are searching for the best option available for Gateways, Matrix Telecom Solutions offers enterprise-grade solutions that provide uninterrupted business communication by augmenting their communication capabilities. Integration of Matrix Media Gateways into their current PBX system without changing dialing habits initiates workforce collaboration and ease of use.
Bring Matrix Media Gateways to your organization and save additional investment on acquiring new equipment. Ready to take the next step? Call on 1800-258-7747 or Email Us to explore a pool of Media Gateway solutions in-depth or simply visit our website.