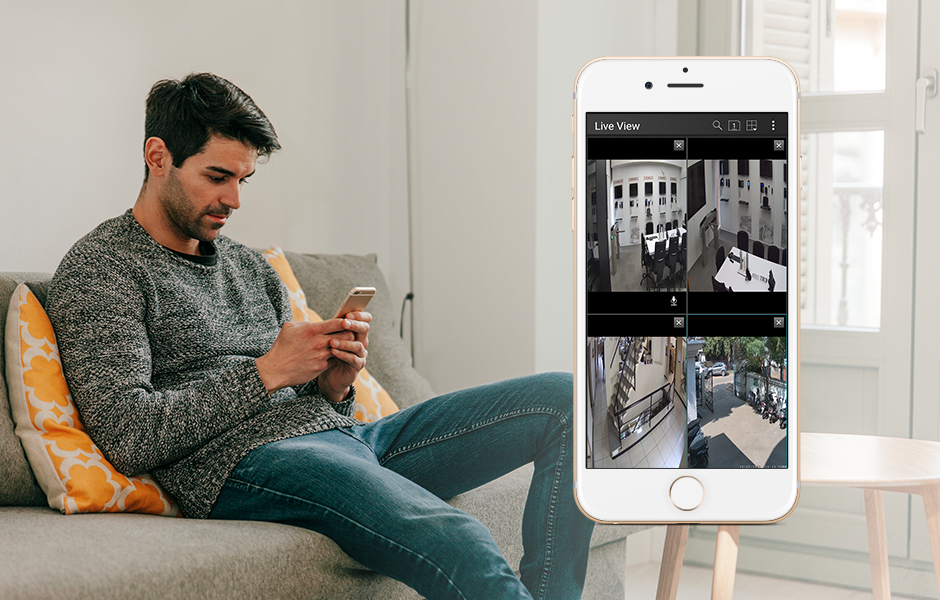 The reality is we are now living in a fast, convenient world. Need to go somewhere? Call a cab. Hungry but do not have any food in the house? Order online. Everything we want is available at the tips of our fingers through our smartphones – instantly and on-the-spot.
It is also a given that we depend on our mobile phones, now more than ever, and probably, this dependency will only increase. From conducting video conferences, checking up on social media to remotely monitoring what is happening in your offices right now – the list is never-ending.
Over the last few years, businesses have been under huge pressure to develop apps to make our lives simpler and streamline work processes – to meet customer demands. This is why it comes with no shock that there are now thousands of apps available that can help you remotely monitor your enterprises from any corner of the world. Wondering how? It is pretty simple.
You or designated security personnel can connect smartphones to IP systems via the Internet using an app. Following which you can view live footage from any location at any time, monitor premises and prevent unwanted acts while being connected to Wi-Fi. What is more is that these intelligent systems can also alert/ notify you via Emails with Video footage, help you call the designated person and can send text messages in real-time when they detect something inappropriate.
These features can be a boon if you wish to bolster safety and security at your enterprise premises. We have briefly listed the benefits of remote monitoring through a video surveillance app and how businesses can use it in addition to smart technology to protect their assets.
Top 4 Benefits of a Remote Surveillance Application:
Real-time Alerts Through Call/ Video Footage:
The primary benefit of a remote monitoring app is the fact that it provides you with visual confirmation/ alert through call regarding the cause of any unwanted action. This reduces the probability of false alarms and allows the authorized person to determine the course of action to be carried out. Calling the concerned person from Mobile App has proven to be a successful deterrent for most cases along with visual confirmation that allows authorities to potentially identify and prevent crimes before they escalate into something much more serious.
Monitor Feeds From Anywhere, Anytime:
Using a Video Surveillance app, you can view your IP Camera recordings from anywhere in the world. Whether you want to view live footage or playback recordings from a previous day, you can do so very easily through an intelligent remote surveillance application. Advanced mobile applications are capable of managing and monitoring up to 50 recording devices using MAC address, Host Name, DDNS, Domain Name and IP Address, irrespective of their locations.
Complete Flexibility and 24*7 Protection:
One of the popular benefits of a Video Surveillance app is the fact that you have the ability to view live recorded feeds and control PTZ settings. A PTZ Camera connected to any device can be controlled – in turn offering complete flexibility in changing direction, angle and zoom in a specific area for closer inspection. The accuracy of the information can give business owners peace of mind – one of the greatest advantages of remote surveillance applications.
Mobile Applications are a Hub of Information
Using mobile apps allows business owners to access all video information at one place that can be even integrated with other security systems. Managers, security guards or any concerned personnel needing information can access live video across the mobile app without having to physically go to a central monitoring location. This enhances their ability to respond timely to events.
Whether you are constantly on the move or working in a remote corner of the world, having the ability to access your IP Camera footage through your smartphone puts the power in your hand. Having the ability to view footage from your home or any location, anytime means that you can analyze, evaluate and respond to a situation within no time.
Matrix SATATYA SIGHT is a comprehensive Video Surveillance application for mobile devices that can offer the view of multiple locations, call a pre-defined number in case of emergencies and provide complete access to all recorded videos on the devices for preventive security. Get in touch with our security experts to know more about our innovative remote surveillance app and other IP Video Surveillance solutions.