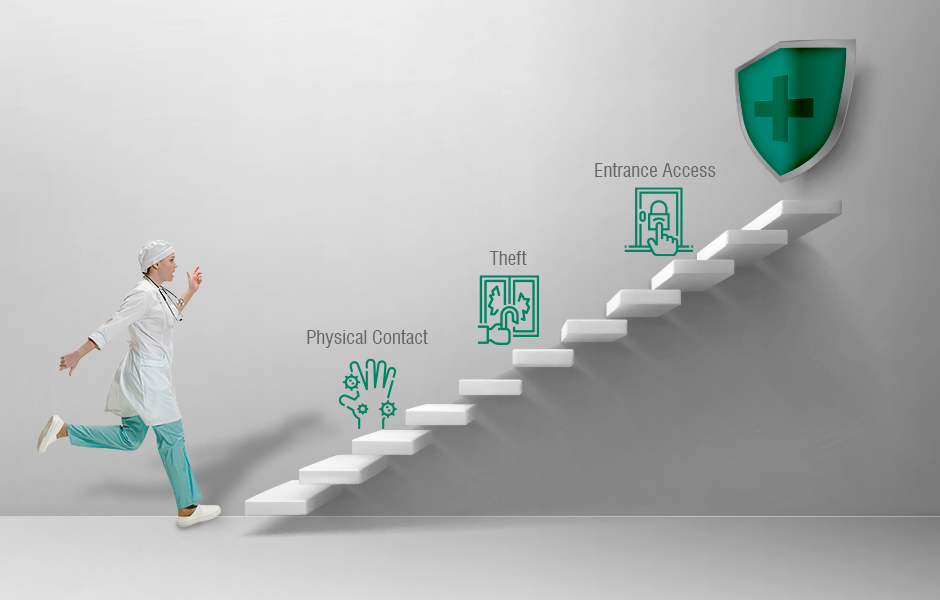 With the steep rise of COVID-19 cases around the world, hospitals are functioning 24✖7 to make both ends meet. The front-line workers are not only connected to their patients in person but are also connected through digital mediums to take care of the patient and their families. But, with the rise in the situation, secondary problems have surfaced, for which the healthcare sector has to increase its security in order to overcome those challenges.
Furthermore, new sites are converted into healthcare settings where the doctors and other medical staff are operating – which brings us to question the security of these immediate setups. Along with the security of the patients, hospitals now have to take utmost care of the staff and the management too. Which points to the hurdles that the healthcare sector is facing, currently. Here are some concerns and measures to be taken in terms of security and other aspects in order to turn the tables around:
PHYSICAL CONTACT
Physical contact can be the activity that can trigger a red alarm in the minds of people during such time. Well, doctors have to be in contact with patients during the whole day. Although they have precautions this does not shield them completely. Besides this, the number of medical experts in hospitals has also gone down in the past few months.
As a solution to this problem, hospitals can upgrade their security by implementing IP cameras. This will enable them to remotely monitor the patients without worrying about contacting them. For instance, if the hospital implements a 5MP dome IP camera as a solution to this problem they won't have to visit the patients on an hourly basis which would prevent them from health hazards. Meanwhile, the response team of doctors can visit the patient if they find that they are experiencing some trouble.
THEFT
At times like these, when the medical treatments are in shortfall as compared to the number of patients, it becomes pretty evident that there can be chances of theft or pilferage. To prevent such adverse occurrences, the hospital can implement IP cameras that have inbuilt video analytics with features like intrusion detection, tripwire and motion detection. Upon detection of intrusion, it can send an alert to the respective authorities. To elaborate, if a 5MP bullet IP camera is mounted on the entrance of the hospital. The hospital can program an alert to monitor any movement on the entrance of the hospital during midnight. The authorized personnel receive an alert upon such events. Consequently, necessary action can be taken as the cameras provide real-time footage.
ENTRANCE ACCESS
With COVID-19 scare still around, hospitals have shifted towards limited entrance access of the patients as well as the entrance staff. Earlier, hospitals had multiple entrance points for patients, staff and management. Now, as the gathering of people is limited, hospitals have to limit the number of people at premises. To ensure that there is no trespassing of unknown people in hospital premises, hospitals can integrate their video surveillance with access control through API integration.
So, are you looking for IP cameras that can suffice your needs and overcome these hurdles?
Well, Matrix offers IP camera solutions along with video surveillance solutions which can provide your hospital with the security that you are searching for. They offer 2MP and 5MP IP Cameras that can provide superior quality video footage. The cameras come with inbuilt video analytics like tripwire, motion detection, and intrusion detection. Also, they can be integrated with other security solutions like access control through API. Lastly, the cameras can be remotely monitored from anywhere in the world.
So, if you are planning to set up a surveillance system at your premises, Matrix Video Surveillance would be a wise choice.
Get in touch with the experts to know more about it.