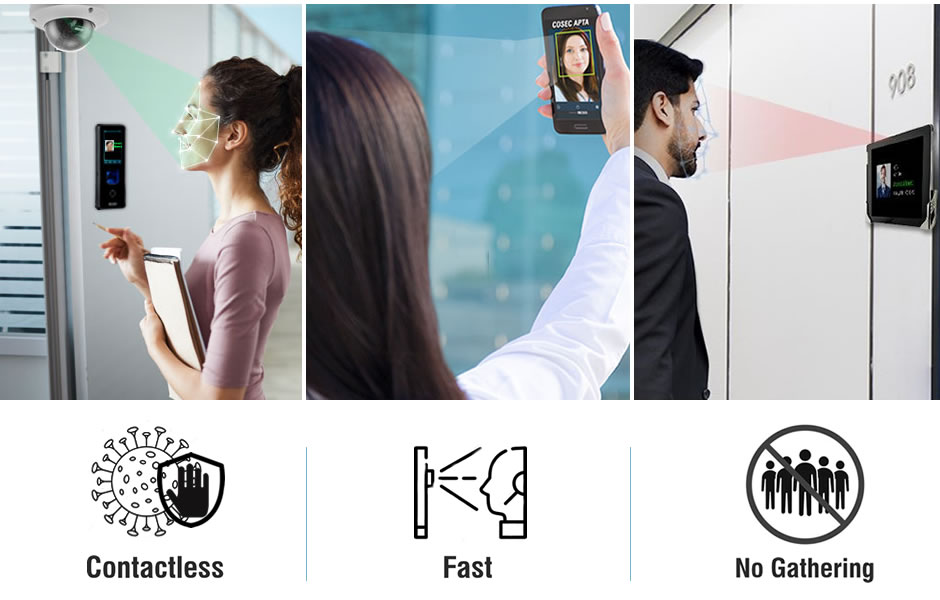 As the coronavirus pandemic continues to evolve, some Companies are encouraging their employees to work remotely and to limit in-person interactions, replacing them with video and telephone conferences. On the other hand, there are some companies which can not allow their employees to do work from home as they come under the essential services and products industry. And there are companies which have to allow half of their employees to do work from home and while calling the other half to the office. But in any situation, time tracking of work hours is a necessity for the company. And each company needs a single system for any of the situations to keep the record. And in this situation, whether from home or in the office, employers need Contactless and Advanced Technology that can work in any scenario.
Face Recognition Solution provider companies are seeing opportunities in their services with the Coronavirus in identifying individuals without the risk of close contact. Fingerprint scanners, for instance, require that all the employees touch the same surface, which could potentially spread disease if somebody with COVID-19 were to use an unclean scanner. Businesses around the world are being directed by the government to ditch fingerprint authentication in lieu of facial recognition or ID cards, and the New York Police Department has paused its fingerprint entry amid coronavirus concerns.
Face Recognition would not only help to shift to a contactless solution but, Face Recognition Technology from many brands is faster than other solutions. It offers you the Identification-on-the-Go approach, which helps in controlling traffic by more than ten times and reduces the congestion in the offices or other places like airports, railway stations, enterprises, schools, etc.
What If You are Working in an Area Where Internet Connectivity is Limited?
Worry not, to solve the various problems and to meet the needs of all types of organizations, some companies give Face Recognition System in different modes. Let's understand these deployment modes.
Face Recognition System based on Camera:
It can be deployed with an IP camera and door controller. Some companies also convert fingerprint-based door controllers into Face Recognition based with few modifications. Further, this camera-based Face Recognition can be divided into two modes, server mode and standalone mode to match the exact need of your organization. It is suitable for harsh application scenarios with a large number of users such as manufacturing units, hospitals, government organizations, construction sites, mining sites, etc.
Face Recognition System based on Tablet:
This Facial Recognition Technology offers the mobility of attendance marking with minimal infrastructure and a low biometric device cost. This is used with an android application developed by the brand (which provides this solution) itself. Again, it works in two different modes, standalone mode and server mode for organizational convenience. This mode can be used for mobile applications with limited connectivity such as corporate offices, educational institutions, construction sites, retail outlets and logistics industries.
Face Recognition System based on Mobile:
There are companies that offer Face Recognition Solution with a mobile-based employee portal that provides a platform for users to monitor and manage all their time-attendance, leave and access control options. To keep track of the user's movement outside/inside the premises, this solution sends location details to the server using GPS by taking the user's image from the present location. This deployment mode is best suited for corporate offices which allows work from home amid COVID-19 pandemic and of course for the logistics industry which are operating continuously.
So, with this flexibility, you can choose the best option for your organization amid the coronavirus pandemic outbreak. This technology will surely help you to acquire contactless technology. Do you want to share your views regarding the use of Facial Recognition Technology in this time of crisis? Let's discuss here in the comment box or you can drop us an Email. Stay tuned with us to get updates on the latest technology related to access control and attendance tracking.