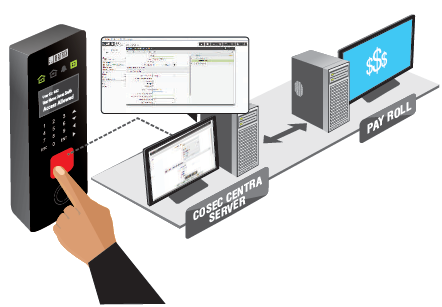 Payroll management is an imperative function of HR in any organization irrespective of its size. It is very important for employees and organisation for the payroll to be accurate and on time. To make it happen, all payroll inputs must be accurate. One of the inputs is attendance data of employees.
Matrix COSEC Time-Attendance is a fully integrated and automated solution starting from recording punch data to generating reports or payroll integration. Its different integration options facilitate organizations to integrate it with any payroll software such as ERP or HRMS.
COSEC Time-Attendance Solution provides three types of integration, which are as listed below:
Database to database
API
Customized export templates
Let us discuss each of these in detail for better understanding.
Database to Database Integration: COSEC supports MS-SQL and Oracle database. Using database to database integration, COSEC time-attendance can be integrated with third party software by linking different fields of both the database. Matrix COSEC also supports MySQL, Postgre, DB2, and Oracle for data transfer.
Integration through API: COSEC enables third party applications like payroll to pull or push data from and to the COSEC database through APIs. Thus, integration of COSEC can be done smoothly with third party applications using APIs.
Customized Export Templates: COSEC offers flexibility to create a template required by third party software by selecting various fields from the software. This template can be exported in other payroll software.
Benefits of Integration
Listed below are the ways in which an organization can benefit through seamless integration with third party applications:
• Accurate Attendance Data Transfer to Payroll Software
• Smooth and Quick Payroll Processing
• Minimized Human Intervention
• Reduced Time Spent on Payroll Processing
• Reduced Erroneous Payroll
• Timely Salary Payments
• Increase in Overall Productivity