INDUSTRY : Hospitality
CUSTOMER : Renaissance Palace Hotel
LOCATION : Baku, Azerbaijan
Renaissance Palace hotel, equipped with 60 rooms located in Baku, Azerbaijan is known for its excellent hospitality services. The hotel's location near the Azerbaijan State Philharmonic hall, Baku State University, Palace of Shivram Shahs and Nizami Museum makes it an ideal destination for tourists. However, availability of business center, professional ambience and meeting room attracts business travellers as well. The amenities like full-service spa, fitness center, concierge services, 24-hour front desk and free Wi-Fi makes Renaissance Palace Hotel an ideal accommodation for business travellers and tourists.
Since enhanced guest service was a major concern of the hotelier, they were looking for a communication solution that bridges communication gaps between the staff members. Furthermore, the hotelier wanted to invest in a solution that offers easy access of the hotel routine activities from a single screen.
The hotelier believes in delivering value to all the guests. Therefore, he was looking for a solution that adds value to his establishment. A thorough study of all the products and their specifications was done to select the best. The hotelier opted for Matrix Hospitality solution after considering the reliable architecture and features offered by the system.
The company employees are satisfied with the product performance. Now, employees can call with different numbers from the same device.
To cater to the distinct demands of the guests, the hotel housed multiple departments such as meeting room, bar, spa, business center and more. To offer enriched and quick services to the guests, it was necessary for the hotelier to connect all departments. Since the hotel was an ideal accommodation for different kinds of travellers, it was evident that the receptionist's desk was always ringing with reservation enquiries and service requests. Handling heavy traffic of calls and reverting with proper answers in short period of time was difficult for the front desk executives. Furthermore, the hotelier was also looking for a solution that offers room to room dialing facility.
Matrix, with its esteemed partner Zetron Telekom, understood the challenges faced by the hotelier and designed a solution with:
ETERNITY GE6S – The IP-PBX with Seamless Mobility and Universal Connectivity
Matrix hybrid and universal architecture was installed at the hotel to cater to hotelier's requirement of connecting different departments and offer room to room dialing facility. Access of new age and legacy networks such as VOIP, GSM, Analog, PRI and BRI enabled the hotelier to use different trunks and utilize the Least Cost Routing Algorithm feature to reduce communication costs.
VOIP Connectivity to Avoid Hassle of Installing Multiple Wires
For hotels, aesthetics plays a major role. Although, the need of hotelier was to establish seamless connectivity between different departments, he wanted minimum installation of wires. To cater to this need of the hotel owner, VOIP card was inserted in the system. The connectivity over IP required minimum use of wires for continuous communication between departments or amongst the guests.
Consolidated Interface to Monitor Routine Hotel Operations
The receptionist's productivity was hampered since maximum time was spent juggling between screens to manage different hotel activities. Matrix offered Hospitality license enabling the front desk executives to monitor Check-in, Check-out, Floor Service, Room Clean Status, Room Occupancy Status and Room Shift status from the same screen. Easy access of all the services boosted efficiency of hotel staff thus improving hotel's reputation.
Digital Key Phones and Operator Console for Improved Communication Convenience
Front desk executives used to receive heavy call traffic on daily basis. The calls included both service request and queries from the guests. To handle these calls efficiently and transfer calls after measuring the availability of staff, Matrix offered its feature loaded Digital Key Phone EON48S and Digital Operator Console DSS16X4. DSS and BLF keys helped the front desk executives to route a call to the available person and get the guests served in minimum time. Flexible LCD Screen, 64 Keys Expansion Module and 12 Touch Sense Feature Keys uplifted communication convenience of front desk executives.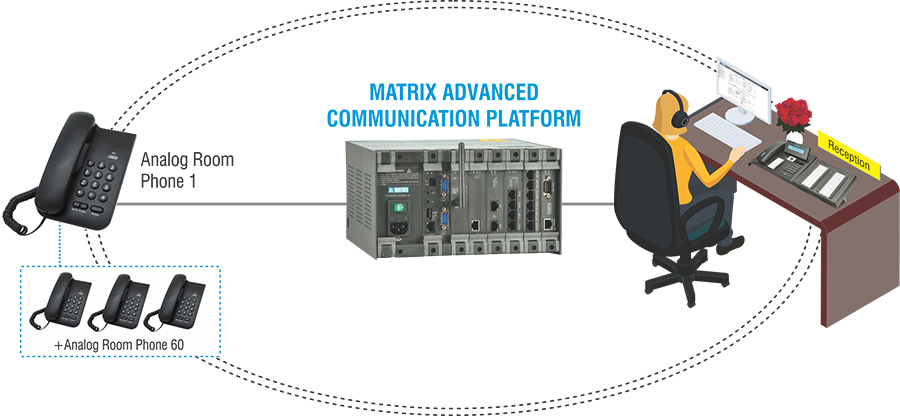 Improved Connectivity between Staff Members
Access of intelligent call management features, noting Presence Status from BLF keys and ease of contacting the desired station by pressing a single key enabled the staff to easily contact each other and assign service requests. Prompt completion of services request enhanced guests' experience and improved the hotel's image.
Enhanced Guest Experience
Availability of adequate number of channels, improved dialing experience and ergonomic User Terminals enabled the staff to remain constantly connected with each other and solve the guest's queries on time thus, improving their living experience.
Compact Footprint
Access of different networks, hospitality features and IP technology from a single platform helped the hotelier improve communication without consuming more space and at the same time retain aesthetic value of the hotel.