INDUSTRY : Manufacturing
CUSTOMER : Japanese Company with Headquarters in Bengaluru
LOCATION : Bengaluru, India
MNC headquartered in Bangalore, is known as the pioneer manufacturer of CNC routers, industrial robots and industry automation products. Furthermore, the company also holds training centers in different parts of India to educate enthusiastic youth regarding their advanced solutions. The company has offices at Bengaluru, Ahmedabad, Gurgaon and other 19 locations in the entire India.
Establishing easy connectivity between employees plays a vital role in helping manufacturers evolve with technology along with retaining existing customers. Therefore, major concern of the company was quick connectivity between internal employees.
A fair share of company's workforce included field employees. Therefore, frequent telephonic discussions between the desk employees and mobile workforce led to increased communication costs. Furthermore, they wanted only a single solution offering connectivity for conventional (PSTN, BRI, PRI, GSM) and modern (VOIP) networks.
Owning to the current working patterns, it was not feasible for employees to work efficiently by remaining tied to their desks. They needed wireless connectivity for mobile workforce deployed in the remote locations. Therefore, wireless connectivity within office premises and on the field was another requirement.
Different Communication Systems at Three Offices
Matrix uplifted the communication convenience at offices in Ahmedabad, Bengaluru and Gurgaon with two units of ETERNITY PE6SP, ETERNITY GE6S and ETERNITY ME16S respectively. All the communication systems with modular architecture offered connectivity for TDM and IP networks from the same platform. The hybrid slot structure of all the systems catered to the organization's future expansion plans.
PRI and GSM Cards for Wireless Connectivity and Reduced Outbound Calling Costs
GSM trunks were offered for offering wireless connectivity to the desk employees and PRI cards were offered for easy and quick connectivity between the employees. Furthermore, PRI trunk ports also resolved the issue of high call drops by offering adequate number of channels capable of handling simultaneous internal calling and managing heavy flow of external calls. Intelligent Call Management feature of Least Cost Routing was offered, in which calls were directed through the most suitable trunk. GSM calls were routed over GSM trunks sufficing the business' need of cutting down the telephony costs.
Bunch of Smart Call Management Feature
Another point that bothered the professionals was communication convenience. Matrix communication solutions took convenience a notch higher with a bundle of call management features such as Call Forward, Call Transfer, Call Block, Audio Conference, Local Directory and Dial-by-Name. Dial-by-Name and integration of local directory allowed the employees to connect with desired staff by pressing the first few letters of their name, eliminating the need of remembering the extension/mobile numbers, saving time and improving productivity.
Remote and Centralized Management of the Communication Platform
Like communication convenience, the company wanted a system with minimum downtime and maintenance. Matrix range of IP communication platforms offer web based management with intuitive user interfaces. The centralized management gives engineers access of the system from any location, reducing downtime.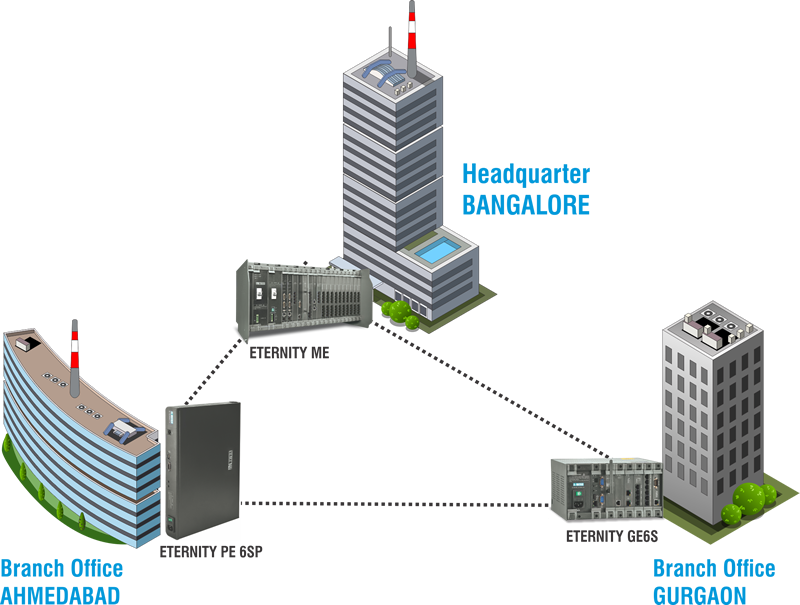 Enhanced Productivity
Employees could now conveniently connect with each other regardless of their location. Improved connectivity led to proper circulation of information, boosting productivity and profitability.
Streamlined Internal Communication
With features such as Call Forward, Call Transfer, Audio Conference and Dial-by-Name, employees can easily connect with each other. Furthermore, PRI trunk ports offering appropriate number of channels for efficient management of heavy call traffic reduced the call drop ratio.
Reduced Telephony Costs
With Least Cost Routing Algorithm, calls were now routed through the most cost-effective trunk helping the company improve connectivity between employees at reduced calling costs.