INDUSTRY : Healthcare
CUSTOMER : Gold's Gym India
LOCATION : Across India
Gold's Gym India is one of the reputed fitness chains with 85+ branches spread across the country. Being the leading fitness authority on health and fitness, Gold's Gym focuses on offering enhanced services to their customers.
For smooth communication between all branches and the head office, Gold's Gym was looking for a compact telephony solution. They wanted to invest in a solution that offers mobility to their employees along with the internet facility.
Gold's Gym wanted to establish a robust communication link between its 17 branches and the head office. Access to 3G internet and IP-PBX features anywhere in the gym premises was their prime requirement.
Matrix, along with its channel partner Corporate Telesystems Private Limited, understood the requirement and tailored a solution that fulfilled the customer's distinct needs. Matrix deployed ETERNITY GE12SAC – IP-PBX for Universal Connectivity and Seamless Mobility at the head office to cater to their requirement of multi-location connectivity. NAVAN CNX226 2G2 was installed at the branches for streamlined internal communication and internet access.
SPARSH M2S, mobile app was offered to connect the mobile gym trainers and other personnel with the receptionist or the desk employees. SPARSH M2S improves communication experience with a set of features such as Conference, Comprehensive Call Handling, Conversation Recording, Presence Sharing and Instant Messaging.
Connected Gym Branches with Peer-to-peer IP Telephony
Peer-to-peer connectivity between ETERNITY GE12SAC and the NAVAN CNX2262G2 improved communication between the head office and the gym's 17 branches. Peer-to-peer connection eliminated the need of cable connectivity, hence saving the cabling costs. Three-digit dialling and one touch access to features like Call Forward, Call Hold, Conference and Comprehensive Call Handling offered seamless collaboration.
Installed NAVAN CNX2262G2 with built-in Wi-Fi, Router and Ethernet Switch
NAVAN CNX226 2G2 satisfied the customer's demand of wireless PBX system and access to internet from any location within the gym premises. Apart from the cutting-edge features, calling on IP network enabled owners to save a lot on the telephony costs.
Delivered Instant Connectivity to the Mobile Staff
Mobile-soft client SPARSH M2S provided the gym's staff with one touch access of all the PBX features and attend/place call from their own smartphones. Placing voice/video call, arranging conferences and sending instant messages reduced communication delays. SPARSH M2S saved the owner's investment as it eliminated the need of buying separate devices for the staff.
Intuitive User Interface for Hassle-free and Centralized Management
Web-based GUI allowed IT team to manage all the scattered devices regardless of its location, from any device.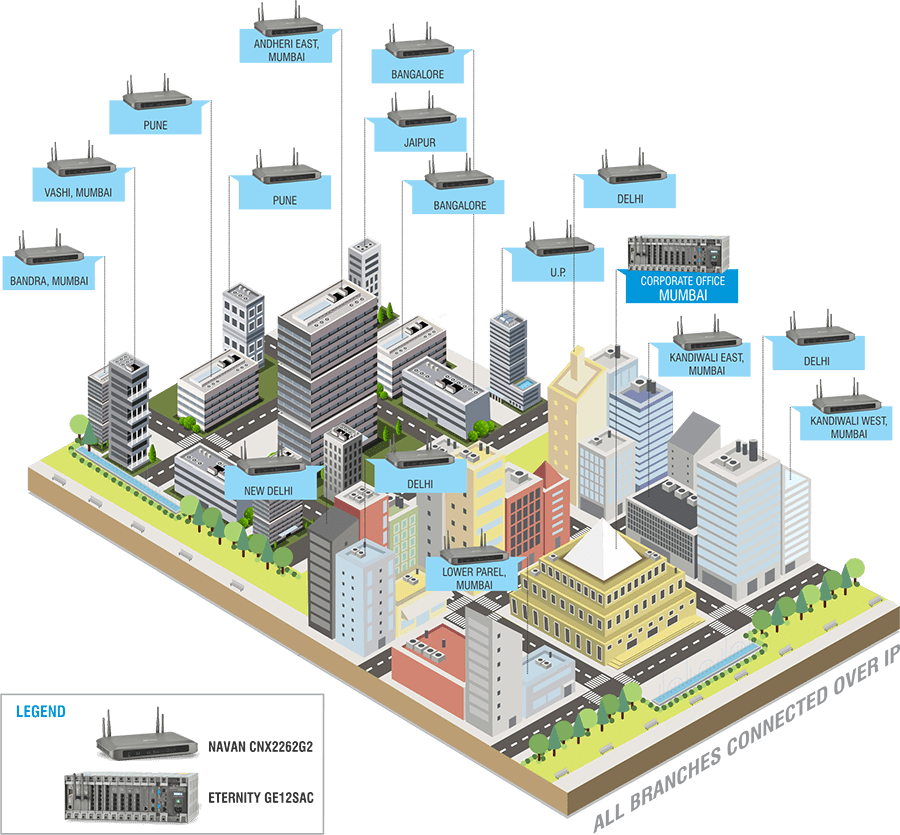 Reduction in the Telephony Costs by 50%
No Communication Delay due to Intelligent Call Management Features
Easy Centralized Management of Scattered Communication Systems with Intuitive User Interface