Application : Cafeteria Management
Users : 2400+
Devices : 18
Credential Type : Fingerprint (with Optical Sensor)
Industry : Manufacturing
Location : Rayong, Thailand (Single Location)
The Ford Motor Company (commonly referred to simply as "Ford") is an American multinational automaker headquartered in Dearborn, Michigan, a suburb of Detroit. It was founded by Henry Ford and incorporated on June 16, 1903. The company sells automobiles and commercial vehicles under the Ford brand and most luxury cars under the Lincoln brand. Ford introduced methods for large scale manufacturing of cars and large scale management of an industrial workforce using elaborately engineered manufacturing sequences typified by moving assembly lines. These methods were known around the world as Fordism.
Ford has manpower of over 2,000 employees in its Thailand factory. Managing the canteen with manual coupon based concept is a cumbersome task. Ford required automated canteen management system that could manage transaction of their employees. Ford was in search of suitable cashless canteen software and biometric hardware that resolves the issue. Moreover, they required biometric devices to be installed in the canteen so their preference was to have devices with wireless connectivity. Their prime concern was to install reliable canteen software that does not intervene with the existing architecture. Additionally, they required a daily transaction report. Ford was in search of a vendor who could meet their expectations.
Software
Matrix offered its Cafeteria Management solution that automated complete canteen process right from user transaction to usage report. The solution comes with prepaid transaction facility whereby user account will have a pre-defined balance, which gets deducted on every transaction. This accounts to fully cashless canteen management process. Additionally, once the balance is over the account gets auto-recharged. Matrix solution also offers real-time reports in terms of daily device-wise usage report.
Hardware
Matrix provided COSEC VEGA FAX which supported Ford's prime requirement of fingerprint credentials. Addressing Ford's requirement of Wireless devices, we connected our devices through three different connectivity options i.e. through Wi-Fi, LAN and mobile broadband (3G dongle). If any of the connectivity fails, the connectivity will switch from one source to another. E.g. at present, the devices are connected through Wi-Fi. If there is failure in Wi-Fi connectivity, then the device will switch over to LAN. This feature helps Ford in getting real-time events of employee transactions.
Deployment
Ford's prime requirement was to have a solution that does not disturb their existing architecture. Hence, Matrix offered on-premise cafeteria solution. The solution was deployed on cloud and the existing server was used as identification server for canteen management. Having identification server speeds up the overall authentication process.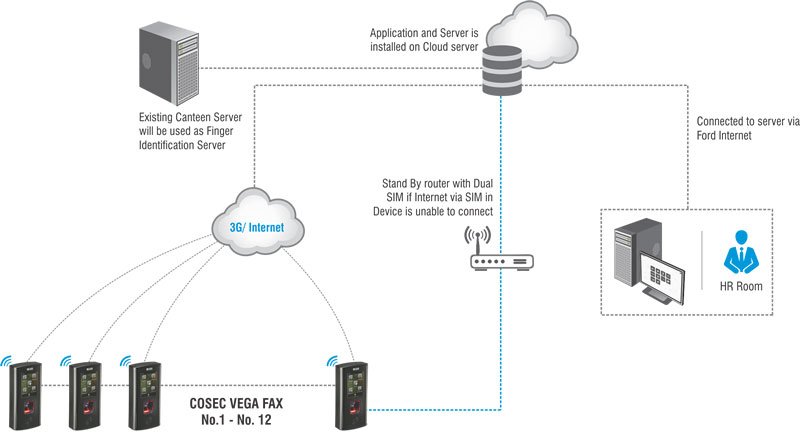 Reduction in Cumbersome HR Tasks
Automatic Maintenance of Visitor Records on Day-to-Day Basis
40% Increase in Productivity of Employees and Workers
COSEC VEGA FAX
Fingerprint and Card based Door Controller with Touch Screen, IP65,Wi-Fi and 3G/4G Connectivity Option
COSEC VEGA BBU
Power Supply Battery Backup for VEGA Series Door Controllers
COSEC PSBB12V
Power Supply Battery Backup for Door Controllers
COSEC CENTRA LE
Application Server Platform with 1,000 Users and Expandable up to One Million Users for Basic Access Control and Raw Event Data
COSEC LE CMM
Cafeteria Management Software Module for COSEC CENTRA LE Users