Industry : BFSI
Users : 3000+
Devices : 140 Biometrics Door Controllers, 750 Cameras, 14 NVRs
Location :3 with Head Office Located at Kinshasa
The Central Bank of the Congo is the central bank of the Democratic Republic of the Congo. It is among the most important financial institutions of the country with head office located at Kinshasa.
The Central Bank of Congo was facing the challenge of protecting the banks with hi-tech complete security from theft, robbery, fraudulent entries, etc. With this, they were having concern for the security of humans, assets and infrastructure. A proper system required to be in place to restrict and report fraudulent activities. Along with addressing these challenges, they also wanted a solution that can keep track of people's mobility.
Matrix Access Control and IP Video Surveillance Solution together provide a high-security infrastructure with restricted accesses and round the clock surveillance. The centralized solution for three locations connects 140 biometrics door controllers, 750 cameras and 14 NVRs to control 3000 users from a single location. The door controllers are connected to third party devices such as electronic locks, barriers, re systems, etc. for 360° security of the bank. With this system the bank's administrator is able to set different access permission based on role, time, and zone for the customers and employees.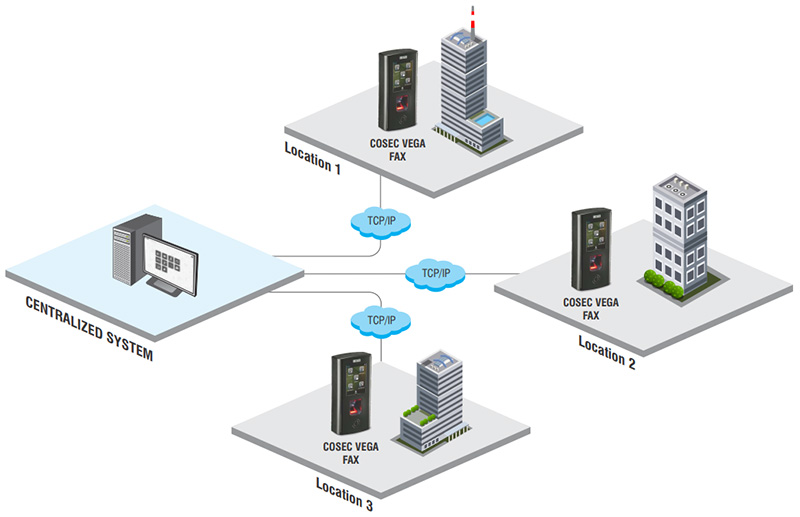 Controlled People Mobility
Centralized Surveillance System
Real-time Notifications
Advanced Access Control Features
Fingerprint + RFID + PIN based Door Controller with Wi-Fi & POE – COSEC VEGA FAX