INDUSTRY : BFSI
CUSTOMER : RELIGARE ENTERPRISES LIMITED
LOCATION : INDIA
Religare Enterprises Limited (REL) is the holding company for one of India's leading diversified financial services groups with presence across 1,450+ locations in PAN India. With almost 1,700 branch offices in India, REL offers a wide range of financial services to businesses small or big.
They wanted to align the workflow by establishing a robust communication link between the employees. Furthermore, REL was looking for a communication system that can manage daily heavy call traffic mainly done to support broking and trading activities.
REL wanted to have a communication system that enhances their reach to end customers and eliminate possibilities of call drop. As per the TRAI regulations, any organization can send up to 100 text messages from a single SIM. This rule was hampering their promotional activities. Therefore, they needed a solution that can support their SMS marketing activities. Furthermore, department heads wanted to record the calls to ensure quality and length of calls, at the same time keep a track of customer feedback.
Matrix, working along with its esteemed partner Corporate Telesystems Pvt. Ltd., understood REL's requirement and deployed ETERNITY ME16SAC and ETERNITY GE12SAC at the head offices and ETERNITY PE6SP at the branch offices.
Streamlined Communication at 350 Locations across India
At few branches, Matrix Analog EPABX was already installed whereas some offices were devoid of any communication system. Matrix installed IP-PBX to suffice their need of switching to new age technology and streamlined communications.
SMS Gateway for Sending Text Messages in Bulk
REL professionals used the SMS Gateway facility to send bulk messages without violating any TRAI regulations. They sent messages in bulk to spread word about their services in the market and build a positive image with SMS Gateway license.
Integrated Third Party Loggers with Matrix IP-PBX
Matrix Communication solutions are compatible with third party loggers. REL made use of this functionality and recorded daily calls to keep a track of call quality and customers' feedback.
Free Channels to Ensure Zero Interruption for the Trading Activities
Initially, REL was unable to manage heavy call traffic, which was hampering the agents' calling activities. Eight PRI cards offering 240 channels in total were offered to help employees place calls and carry out their broking and trading activities smoothly.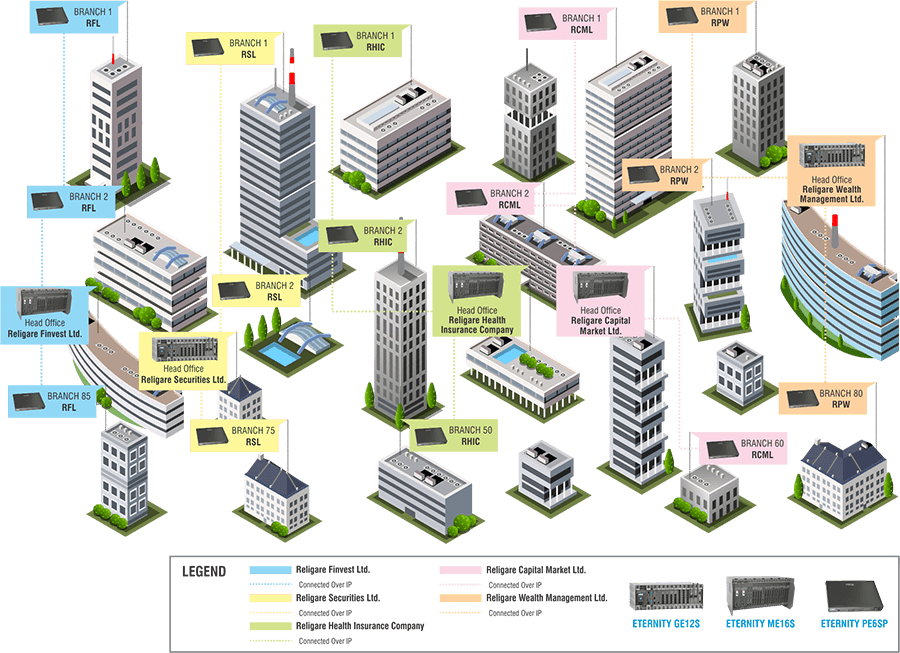 Smooth Trading and Broking Activities
Reduction in Missed Calls
Enhanced Productivity
Smooth Monitoring of Call Statistics/Quality to Interpret the Outcomes