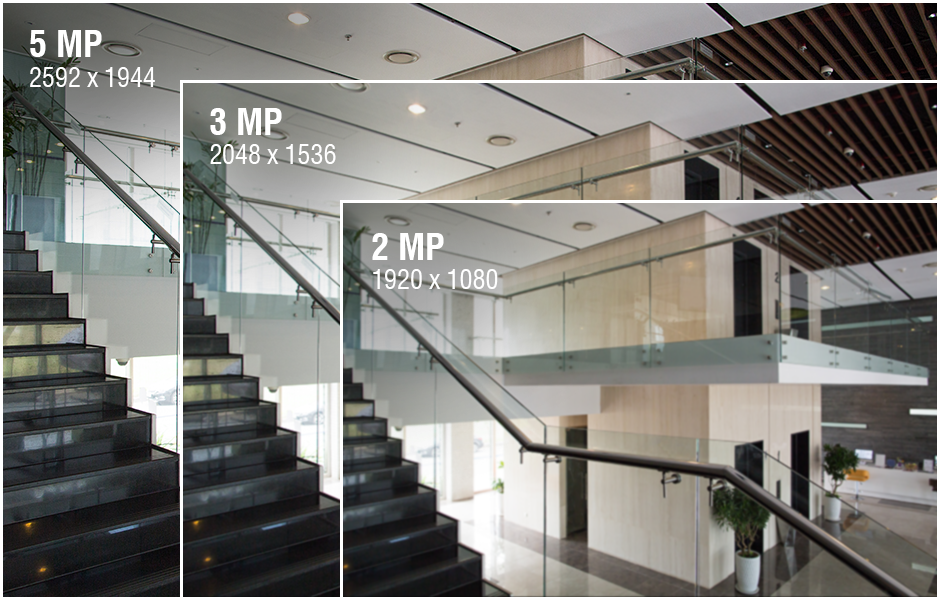 Are you tired of grainy, pixelated images and videos from your IP security cameras? Is security taking a toll because your cameras don't deliver the quality you need?
If yes, it is time to upgrade your old, low-resolution IP cameras to advanced, high-resolution ones.
The clarity and resolution of the footage is everything when it comes to IP cameras. Their whole purpose is to monitor your property, deter crime and store footage that can be used later.
What good are IP cameras if they can't capture clear, high-quality images and videos? Do not skimp when it comes to getting high-resolution IP cameras to protect your property. As compared to traditional, less-advanced cameras, high-resolution IP cameras are preferable because of their ability to provide superior surveillance and security you need for your business or property.
Imagine a situation where you install low-resolution analog cameras outside your business premises for security reasons. If you were to catch a criminal, you would be benefited by the footage of the camera. However, a basic, low-resolution camera would only provide grainy footage that is unlikely to properly identify the offender – unless they were wearing a distinct color or had a distinct appearance.
Now, imagine the same situation with a high-resolution security camera instead of the basic camera. Here, you would have high-definition footage that will be a lot easier to see. The chances of identifying the offender, in this case, are higher, which shows how important high-resolution is if you do not want to compromise on the safety of your business or property.
In this blog, we will give you a few more reasons why we think High-resolution IP cameras are a must to protect your property. Read on.
Outstanding Resolution means Crystal Clear Footage – Being able to capture clear feed is the basic and the most important necessity of an IP camera. If your video feeds are blurry and fuzzy just because you are still using old, low-resolution IP cameras, the footage is going to be useless. We have heard of business owners upgrading their basic cameras because something happened at their location and the police use the footage because the cameras were so old.With more megapixels in the camera, better quality images and videos can be taken. In fact, you can get vivid color images that will help you identify what exactly is going on in the scene. For instance, security cameras with 5MP resolution offer about 2592 x 1944 pixels of outstanding resolution and you can expect these cameras to monitor a broader range of areas that regular cameras cannot do.
Zoom and Focus – In case there are unwanted incidents that take place within an area requiring further investigation, you will need a better, high-resolution camera to check thoroughly people's faces and other elements in the scene. This is critical during situations that involve authorities reviewing and analyzing images in surveillance footage.If you are looking to boost your enterprise security, installing Dome IP Cameras are a fantastic way to begin. Due to its shape, it is almost difficult to point the direction at which the camera is pointing at, making it impossible for people to hide from the camera.

 



Better Efficiency and Convenience – An HD 5-megapixel IP security camera is more adaptable and efficient as compared to the traditional analog ones. You can simply plug the unit using an existing IP network, so that should automatically take the stress out in connecting and using the equipment. Moreover, you receive accurate and clear images from the area where the camera is installed. With this, you can rest assured that your business is secure as the camera will capture images and notify you of any suspicious activity that might be taking place when you are not around.
Captures Every detail, Every Time – High-resolution cameras like 5MP IP Cameras capture millions of pixels in a single image. This means that you are not only recording more area in the video but are able to make out the minutest details that were otherwise missed by a low-resolution IP Camera. Capturing every detail, every time is invaluable when it comes to maintaining complete security of your premises, and high-resolution IP Cameras do just that.
They are Futureproof – This might be a big statement to make, but high-resolution IP Cameras are the future of video surveillance. There has never been a better time to upgrade your old camera to a high definition one than right now. Moreover, they are more affordable than ever before and easier to install and operate. If you are still using an analog low-resolution camera, you need to know that the difference between what you have and what' s available is night and day.
So, what are you waiting for? It's time to take a step ahead. Matrix Comsec is a leading provider of cutting-edge IP security cameras and video surveillance solutions for small, medium and large enterprises. With more than a million satisfied customers and counting, we have extensive experience when it comes to offering custom security solutions for both small businesses and large organizations with huge facilities.
Do you want a cost-effective upgrade from your standard HD CCTV camera system? Browse through our selection of superior 5MP, 3MP and 2MP high definition security IP Cameras at Matrix Comsec. If you need help selecting the best high-resolution cameras for your surveillance application, please contact us at 1800 258 7747.