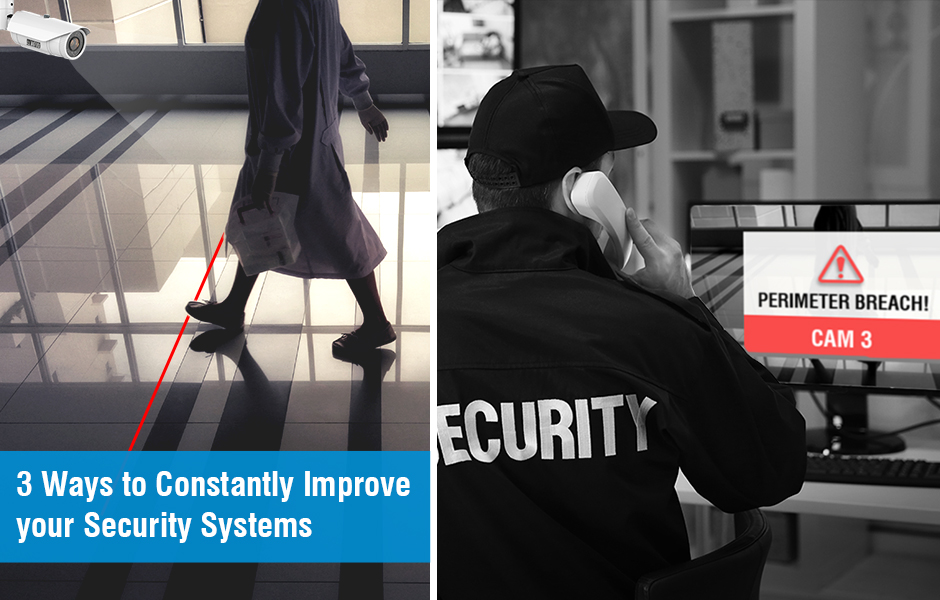 In contemporary times, the threats towards organizations are growing day by day. Video surveillance is just one side of the coin in making your organization immune from threats.
What makes your organizational security more effective?
Here, you'll get all your answers in this blog!
In order to cope with the threats and security lapses, a smart solution that offers compliance – is all we need. It is the convergence of multiple security systems that multiplies the safety of your assets. Following this, we intend to shed some light on the much-required solution – the Perimeter Security System. Perimeter security refers to the natural or manually built barriers that are created in order to keep the intruders out of sensitive premises or keep them held in a particular boundary. The system has now been gaining popularity in commercial as well as residential areas. 
In support of the same, market research analysts say that the global perimeter security market is expected to reach USD 96.5 billion by 2026. Moreover, it would be growing at a CAGR of 7.9% year after year.  The prime reason for the growth of this system is the rise in terrorist activities over the past few years. Let us explore how you can constantly improve your perimeter security system and improve your security.
Cognitive Analytics
The perimeter barriers are designed to give you notifications in case of any intrusion that happens in a pre-defined area. Now, these notifications might be triggered by other non-static objects as well. Hence, filtering down your efforts, cognitive analytics help you reduce false alarms that are triggered by your perimeter security system. To simplify, cognitive analytics gather all the data present i.e. audio, video, event reports, analytics report. Consequently, it determines the configured response for a particular scenario pre-defined and triggers it, which helps in the decision making.  Moreover, consider them as a formula that gives you a notification only when you configure it. Thereby, reducing the amount of unnecessary effort that you have to put. Filter your efforts with cognitive analytics and smartly resolve security issues. Also, cognitive analytics help you in decision-making. Hence, the task of continuously monitoring your premises drops down significantly.
Integration with Access Control System
As we earlier mentioned, the key to mitigating risks lies in the convergence of security systems. An important element of the perimeter security system is the access control system. The system ensures that only authorized personnel can enter the premises. Limiting user access based on their rights, place and time multiplies the level of security in an organization. With an advanced access control system, one can prevent multiple person entry through a single door. The same can be executed by installing door controllers with electromagnetic locks on entry points in order to secure them. As a result, making it hard for intruders to break into your premises. Finally, one can take a snapshot of each entry punch that takes place during the entire day.
Integration with Peripheral Security Devices
As much as video surveillance helps you mitigate the risks, it would be incomplete without ancillary security devices that actually trigger the notification on any event.
To constantly improve on your perimeter security you must inculcate devices such as motion detectors, intrusion alarms, fence detection alarms, infrared sensors to eliminate intruders from entering your premises. These devices trigger notifications to the authorized person based on the pre-defined area and timing assigned. For instance, if the person has assigned if there is any motion in a predefined area in a particular section of the organization's perimeter these devices would trigger a response. As a result, the security personnel can control the situation in time. These devices can be integrated with the security systems using an I/O controller. Consequently, making your perimeter security system more effective.
Now,  for designing a perimeter security system multiple variables are taken into consideration such as the area that needs to be covered, the number of entry points, the selection of cameras, the blind spots in the view are a few of them. It can require an expert's opinion while designing the system which can help you secure your premise. In order to make the challenge simple for you, Matrix Comsec aids you in designing an apt system that meets your expectations. With over 30 years of experience in the industry, these solution providers haven't failed over 1 million customers. So, you can stay rest assured that selecting them would be the right investment for your future.
Get in touch with the experts by writing them down at Inquiry@MatrixComSec.com