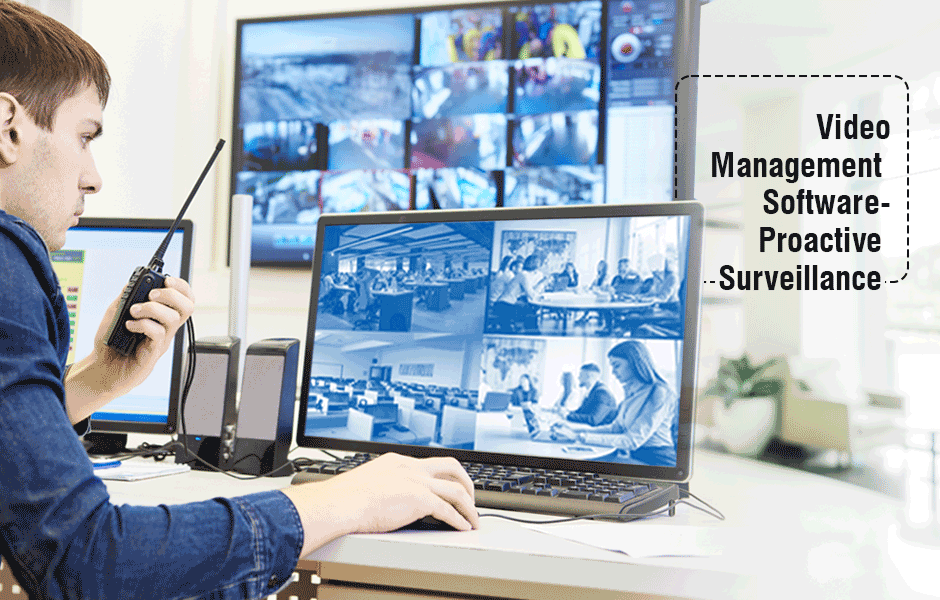 The market for video surveillance in India is set for steady growth with a Compounded Annual Growth Rate (CAGR) of 13% projected from 2021 to 2026. The industry market size was valued at USD 1.5 billion in 2020 and has been further boosted by government initiatives like the safe city projects.
To create a comprehensive surveillance system the various building blocks are network cameras, video recorders, and video management systems. The cameras capture critical footage, and the recorders will store information for playback and investigation. The video management system on the other hand is responsible for managing all the peripheral security devices, managing the footage, and enabling the users to search, view and analyze it.
This post will examine the critical role of the Video Management System (VMS) in constructing a proactive video surveillance solution and the features one should look for in a Video Management System.
Key Roles of Video Management System
Video Management System plays a crucial role in efficient video surveillance some of them are listed below.
Recording and Storage: Merely having CCTV cameras installed is not enough, it is necessary to record and store the captured footage for future reference.  Video Management Software facilitates recording and storing videos in various formats for flexible viewing.
Streaming and Playback: 

VMS enables real-time viewing of camera feeds and playback of recorded footage. Users can view multiple cameras simultaneously and manage them from remote locations, this reduces errors arising from human lapses.

Centralized Video Surveillance: Advanced Video Management Software allows managing cameras and peripheral security devices remotely. Some solution providers enable assigning user-based roles and rights for enhanced decision-making and quick response time.
 Proactive Video Surveillance: VMS can be configured to send alarms and notifications in case of suspicious activity, automating the process and eliminating human errors. Quick decision-making allows for averting untoward incidents.
Search and Retrieval: After recording footage from multiple cameras, users should be able to search through multiple videos easily using advanced search capabilities like time-based search and time-lapse videos.
Analytics: VMS can provide advanced analytics such as facial recognition, auto-tracking, license plate recognition, and more. It also provides detailed reports and analytics for users to analyze their existing security system needs, aiding better decision-making.
What Features to Look at in Video Management Software?
Integrates all Security Devices: A typical office premises could have many security devices like fire alarms, sensors, cameras, and more, an efficient Video Management Software will integrate all the peripheral devices. This makes it easy to operate and manage all security devices from a single point. 
Integration with Other Systems:

The video Management System can be configured to integrate with other systems like the ERP, POS, Access Control, Weighbridge, and more for advanced security solutions.

User-based Roles and Rights:

In large offices that are spread across multiple locations, many people are involved in keeping the premises secure. Each person involved may have to be given different access rights and responsibilities. An efficient VMS will be able to assign different roles and rights to individuals based on the hierarchy of the organization.

Centralized Video Surveillance:

Organizations with multi-site offices should be able to integrate all locations and monitor in real-time from a central location. The video Management System gives ease of monitoring and hastens response time.

Mobile Access:

Video Surveillance on the go is the need of the hour. VMS allows users to monitor their premises from anywhere, the user also gets alerts and notifications when any suspicious activity occurs.

User-friendly Interface:

Video Management Software

from Matrix Comsec comes with a hierarchical E-Map monitoring for easy navigation between different floors and offices at different locations.

Redundancy and Fail over:

To ensure that there is no loss of data due to various reasons it is necessary that the VMS is designed to have redundancy and fail over features. This enables the system to function seamlessly.
A Video Management System (VMS) plays a critical role in managing and analyzing video footage captured by surveillance cameras. It provides various functionalities such as recording and storage of videos, streaming and playback, centralized surveillance, proactive surveillance, search and retrieval, and analytics. To ensure optimal security solutions, some essential features to look for in a VMS include integration with all security devices, integration with other systems, user-based roles and rights, centralized surveillance, mobile access, a user-friendly interface, and redundancy and failover features. With the Indian video surveillance market continuing to grow, businesses can leverage government initiatives like Safe City Projects with VMS to create a proactive video surveillance solution and improve their security.