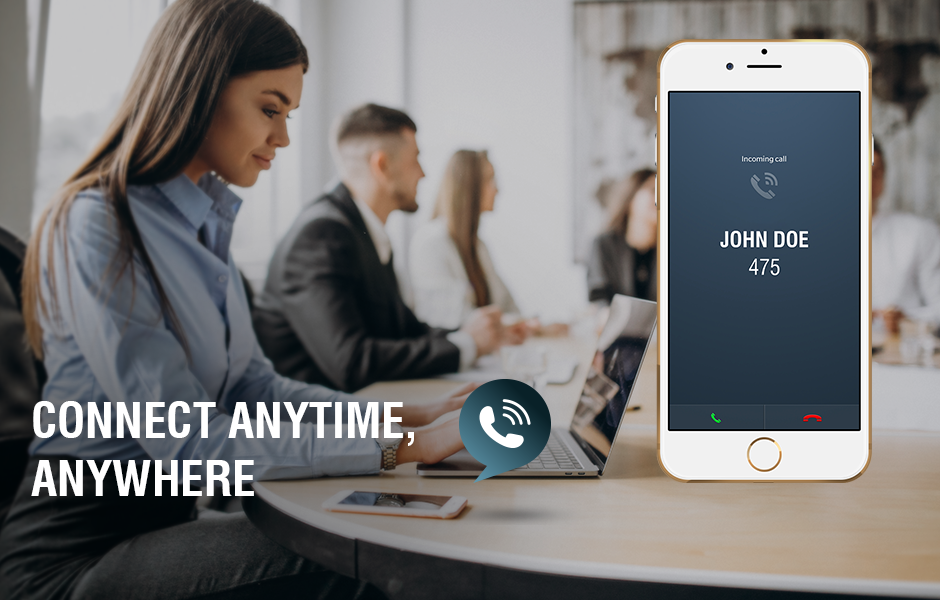 Communication hurdles in an enterprise can have adverse impacts on enthusiasm, working relationships between the employees, error-free results, business profit and more. These problems, when left unchecked, can cause potential reduction in staff productivity, high employee turnover, and other issues that can bring down the company's public image. And for today's dynamic enterprise environment, smarter communication solution that offers round-the-clock connectivity and flexibility of device usage is the need of the hour. Smart and effective communication helps bridge the gap between employees and potential clients of an enterprise. 
What is Unified Communication?
The term 'Unified Communication' means the integration of various communication tools into a single system that enhances the effectiveness of communication. In addition to this, managing all forms of business communication becomes a lot easier. With the help of 'Unified Communication', anyone can connect to the other employees of the organization at any time and from anywhere. For example, the Mobile workforce of an organization can have a consistent in-office experience while working from home, between appointments, or on the move. 
Limitations of Traditional Phone System 
Longer wait time, downtimes, dropped calls are some of the limitations of the traditional phone system. However, there are more limitations to the same because conventional systems no longer apply to the way people communicate in an organization now. Effective communication is the backbone of your business as it runs the business operations smoothly. Some of the most common limitations of the traditional phone system include: 
Limited Customer Service 

Extended Downtimes (due to partial or complete system failure)

Limited Space and Scaling 

High Phone Bills 

Poor Call Quality

Loss of Information 
An incredible communication system is essential to make your organization thrive. Ensuring the optimization of the daily operations of your business leads to higher productivity of the staff as well as your business. 
How Can Unified Communication Improve Staff Productivity?

A suite of all communication tools in one system, 'Unified Communications' with collaborative communication and mobility, improves staff productivity. Competitive markets, flexible workplaces, and flexible timings make smarter communication solutions a necessity. Here is how Unified Communications improve staff productivity: 
1. Single Interface for Communication
Unified Communications provides flexibility and manageability by allowing a user to communicate at anytime and anywhere. Accessing voice mail, text, and instant messages from a single interface becomes a convenience when an employee is on the move or working from home. Furthermore, unprecedented levels of control provided to the user lead to enhanced staff productivity and business communications.
2.Increased Employee Effectiveness and Efficiency 
Unified Communications enables workforce collaboration that ensures streamlined business operations, increased responsiveness to customers, and minimum downtime. Effective communication between the employees of an organization develops healthy relationships and efficient workflow. Additionally, the introduction of softphones provides the flexibility of device usage, resulting in communication convenience. 
3.Communication Convenience 
Unified Communications integrates mobility and unified messaging, which improves the collaboration of an organization. It includes communication through video calling, chat, presence sharing, Email to SMS, voicemail to email, video conferences, and more among all employees irrespective of its size and geographic location. 
4.Effective Resource Utilization 
It is very common for large organizations to have a system in place; however, these infrastructures are slowly becoming out-dated and hence, upgradation is required. Unified Communications encourage the utilization of existing IT infrastructure with existing telephones. 
5.Provides Personalization and Control Over the Communication 
Numerous options for the user like presence sharing, auto-attendant, voice mail system improves staff productivity. The availability of a user (such as offline or online), his willingness to participate in a communication session (busy, available on the phone, out of office, etc.) and his preferred mode of communication (call or instant messaging) before an actual conversation begins. It offers tremendous control over communication. 
If you are searching for the best option available for Unified Communications, Matrix Telecom Solutions offers enterprise-grade solutions that provide collaboration, messaging, and mobility. Introducing Matrix ANANT UCS that helps bring diverse users from multiple locations to a common platform for real-time communication. Matrix SPARSH desk phones and Matrix VARTA Applications on smartphones (or tablets) offers universal connectivity and advanced call management system. 
Wait no more, bring Unified Communications to your organization, and improve your organization's agility and productivity. Ready to take the next step? Call (1800-258-7747) or Email us to explore Unified Communication solutions in-depth or simply visit our website.