The world is turning towards a digital approach for everything from the simple task of buying groceries to vital livelihood operations. Running multinational companies and international academies are all a part of it. With the corporate future now being prone to unprecedented calamities such as a pandemic, we are turning towards a whole new era of how any and every business is working.
From a small-scale primary industry to large enterprises that are spread wide across the globe, being online is the new normal. With the online market growing every day, the spectrum of business opportunities is broadening and so is the competition.
In the wake of this modern business revolution, it is important to know the one major tool it relies upon – Communication.
May it be audio, visual, or something as ordinary as a blog (We got you engaged in this read is proof itself!), modern communication is shaping this new frontier of business style.
By far, we have made it clear that communication is the superpower & every enterprise needs to survive through the digital revolution. But no one briefs us on how it affects – YOUR particular industry. Don't worry, we just will!
For that, let us first understand your industry according to its three major connectivity differentiators – Scale, Sector, and Major Pain-areas, all three of which happen to be interdependent.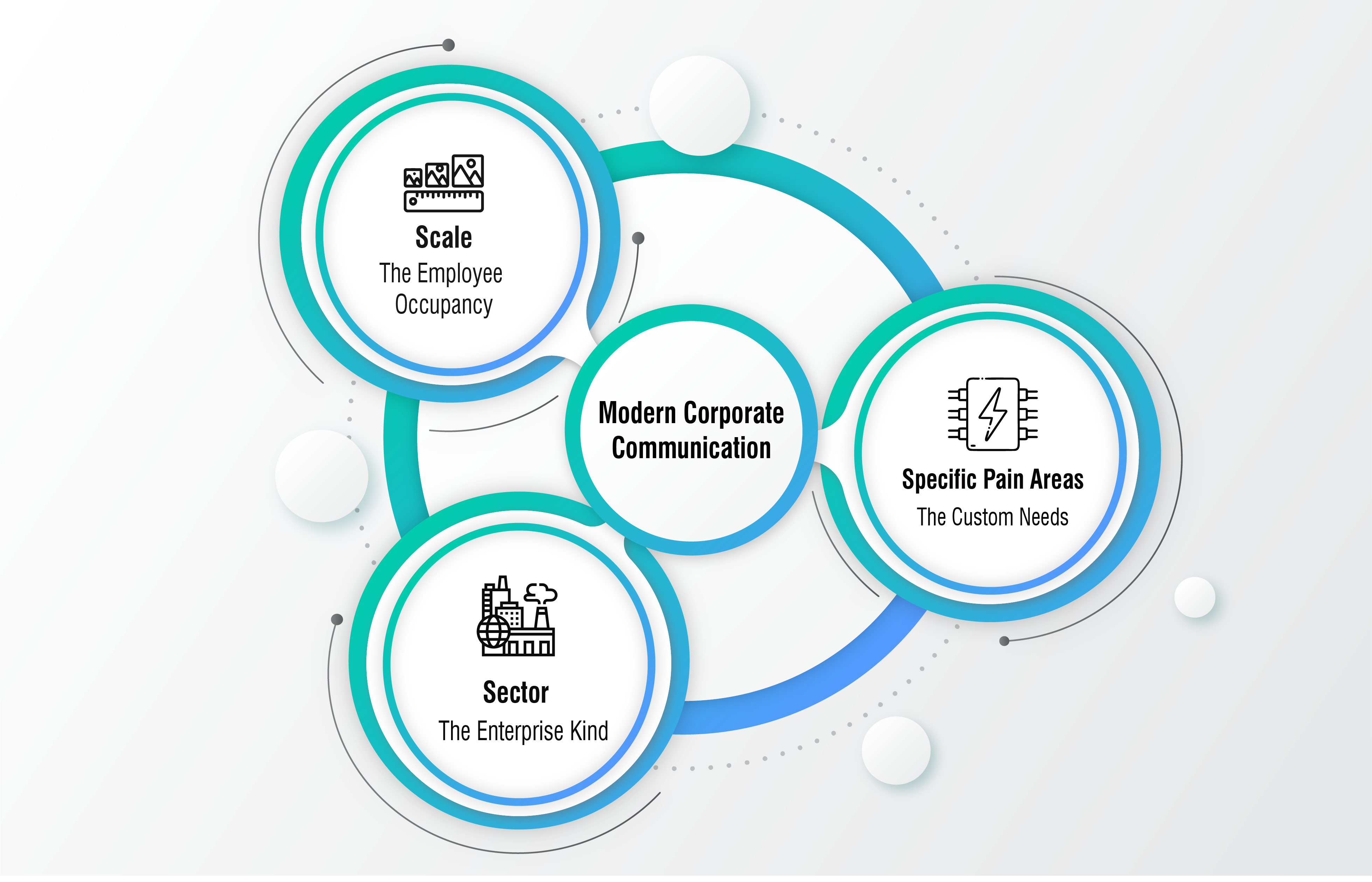 Scale – Talking in a layman's tongue, the scale of your business means its professional occupancy or the number of employees it houses. This can be more or less the determinant of what kind of telecom networks and solutions suit you best. The scalability of your communication solution choice affects your resource optimization and company telephony cost-effectiveness majorly. Here are some of the most common scale-wise industry bifurcation:
SOHO – S
mall

O

ffice

H

ome

O

ffice

This scale category comprises small businesses that are embodied with employee numbers that range between 10-15 to 40-50. The office structure and the placement of such offices play a strong role in finalizing the communication style they acquire. These are the emerging businesses or the remote businesses that work with the minimal approach. The one thing they need in their corporate communication method is professional and all-in-one collaboration – which is just the thing one can find with the exclusively best SOHO phone systems and IP-PBX solution ranges. 
SMB
to

SME

–

S

mall

M

edium

B

usiness to

S

mall

M

edium

E

nterprise

Here we are talking about the emerging firms or the ones that have newly acquired a strong market foothold and are looking for solutions to enhance the same. The employee occupancy for these can be numbered anywhere from between 100 to 1000. This specific bifurcation calls for pocket-friendly yet new-age solutions that can boost productivity such as a Hybrid IP-PBX or Entry-level UC Solution.
Large

ENT

– Multinational

Large Enterprise

The market bigshots that house more than 1000 employees, fall under this label. These can be considered as the organizations that need the most streamlined communication facets. As the occupancy number is higher – so would be the management and maintenance requirements of the deployed system. Here getting it all together on a single platform that is inclusive of professional facilities, web-based remote management capabilities and the huge user capacity becomes mandatory. This can be answered with UC Solution For Small and Medium Business specifically designed to be housed for having all the necessary amenities.
Multifaceted Business
Organizations
These can be classified as the corporate institutions that have businesses of multiple ends – such as an industry that deals in multiple products or domains. These can usually be a cluster of small organizations or a mother firm for varied enterprises. The scalability here is quite uncertain from one to another, but one fixed necessity of such businesses is the requirement of such platforms that can give quick, smooth, and future-proof connectivity for different kinds of networks, design architectures, and communication requirements. 
The best solutions deployed in the above-mentioned industries are always of the sort that has high-end user capabilities such as hardware-independent Server Based IP-PBX and is interoperable such as Extension Gateways. The fixation of communication solutions for such enterprises further depends on what sectors it deals with and the pain areas it encounters. Scroll on – to learn more about the same.
Sector
It can be defined as the kind of business your firm is in. It does not necessarily have to be confined to one sort or type. This identifies the intricacy of the technologies that are required by your business. For example, a retail industry will require more user-friendly technologies to ensure that all sorts of employees can be trained despite their age or academic background. A multinational IT company would prefer a solution with robust security features and robust security features and minimal downtime.
Here at Matrix, we intelligently understand the kind of your sector and enhance its collaboration requirements with our custom-tailored solutions. To help you understand how we do it and you can too – we have an immaculate list of the most popular industry segments and the solutions that have been aiding them. Find the same exclusively on our industry pages.
Pain-Areas
Every business has some specific areas that require major troubleshooting. Understanding these can enlighten you to find the optimum direction of efforts to put in for your particular industry and thus eliminate the growth gaps smartly. You can find the most prominent industry-wise pain areas listed that can help you recognize and answer yours, as follows: 
Multi-location Expansion
The location of your business and its branches plays a critical role in assessing the correct communication channels for your organization. Multi-location solutions for modern businesses are custom-tailored to scale as required without compromising the integrity of your organizational telephony. The key element to consider while opting for these solutions is to learn about the security, scalability, and calling benefits it provides consistently throughout the deployed locations.
Professional Mobility
With the new-age digital revolution, comes a requirement for the immense reach of mobility. Today the world is witnessing business broadening on uncharted horizons. Professionals are quickly adapting to modern methods and exploring untapped corporate opportunities, even on the go! The importance of a professional ambiance grows with these remote work operations. The sole entity designed to answer the woes of an enterprise's professional mobility is a VoIP-enabled Softphone. It is the perfect package of business privacy, company supervision, and advanced professional reach – owing to its capabilities of shifting all your essential office desk functions to your own mobile device/UC client.
Legacy Equipment Retention
Protecting the already existing investment. The communication equipment of an organization can be as expensive as they are important in deciding the success of that organization. No authority would desire to discard the legacy tools in such conditions – just because they are outdated or not supportive of modern technologies and expansion. This dilemma can be aided by bringing in a solution that integrates with the already owned telecom architecture while modernizing the same.
Centralized Communication Management
With chasing the daily deadlines, it becomes a cumbersome task to keep up with monitoring the company communication of a huge multi-branched business. To keep your corporate spine intact while managing the efficacy of your business communication, your enterprise needs web-based GUI and remote management tools. Keeping the management centralized ensures the transparency of your company telephony and helps you supervise it better.
Cost-effective measures
When it comes to organizational telecommunication, they are a few steps that can assure you of having the best cost-effective solutions. Those include understanding and searching for products that have in-built technologies that significantly reduce your company calling costs such as Least Cost Routing Algorithm and Peer-to-peer Free Inter-site IP Calling. The next is moving towards more VoIP-supportive solutions that require very low installation, maintenance, and management cost while giving your business a broader reach.
We hope we have been a help to you for understanding your industry better and hence run it further in the direction of success. To get in touch with even more expert insights on how to take your corporate business skills up a notch for absolutely free – ping us at https://www.matrixtelesol.com/inquiry.html