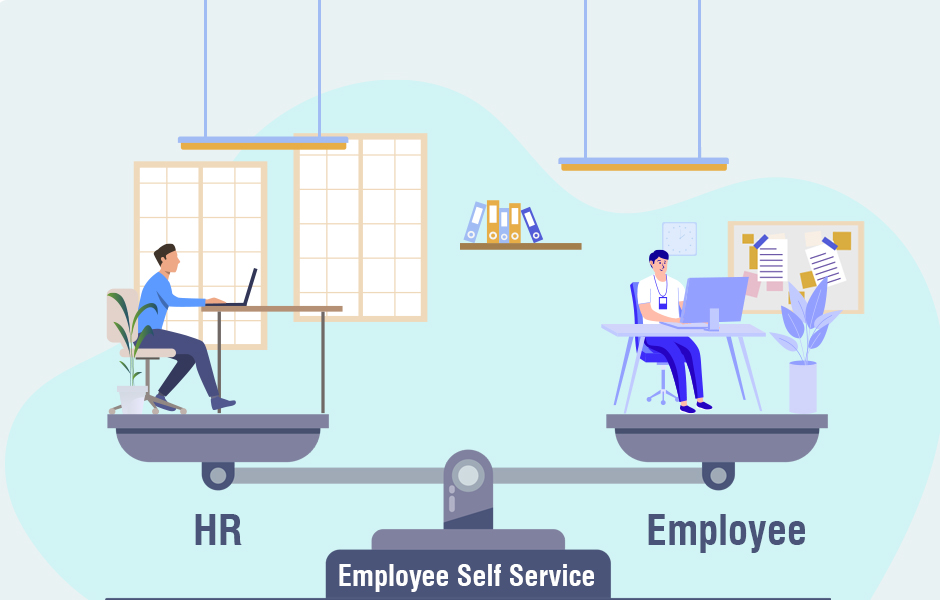 As the world is adopting the new normal, COVID-19 pandemic is still creating new challenges for organizations. With new work cultures like work from home settling in our lives, still, organizations are finding a hard time managing the employees. Moreover, it is hard to keep a track of them. Major challenges that fall in the picture are related to managing the employees' time-attendance, leaves, and supervising them regularly. Human resource managers always try to strike a balance between the management and employees by keeping both parties satisfied. But, as employees are not physically present it becomes difficult for the management to believe they are genuinely working. But, with technology, revolutionizing the entire spectrum of human resource management in organizations these issues are brought down to zero. 
Employee Self Service is an online portal that is designed keeping in mind to drop down the manual tasks carried out by human resource managers. The portal lets the registered employees maintain their attendance, leaves, and other tasks such as shift schedules. Also, aids the management keep a track of the employees. Here are 4 ways in which the employee self service strikes a balance between both parties.
REMOVING THE COMMUNICATION GAP
The first way in which the employee self service portal eliminates the issues between management and employees is by removing the friction in communication. It increases transparency in communication and creates a centralized channel for broadcasting messages. The management can circulate important information such as notice for employees or some change in employee policy with the help of the employee self service portal. Matrix COSEC Employee Self Service module has a dashboard feature that allows the employees to keep a track of the important broadcasted communication that takes place at regular intervals. As a result, it saves time and boosts productivity.
DROPPING DOWN PAYROLL ISSUES
Another benefit of the Employee Self Service portal is that it reduces issues regarding employee payroll. The employees can view their attendance as the portal provides a summary of their monthly attendance. As the information is available in real-time whenever requested the employees don't have to bother their managers or the human resource personnel in matters that involve their payroll. Ultimately, smoothening the whole process. Again, this solves issues regarding payroll which is usually raised by on-field employees. 
HASSLE-FREE ATTENDANCE MARKING
Employee Self Service portal abridges the relationship between management and employees by eliminating issues regarding attendance. Usually, in firms where the number of employees is more as compared to small or medium-sized firms, there are instances where the employees need to stand in a queue. This can lead to attendance-related issues amongst employees and management. For instance, due to a long queue, an employee's punch on time might get missed. As a result, it can result in employees in-punch showing him/her late. Ultimately, leading them to lose their pay for a day. Employee Self Service eliminates this issue by letting employees mark their attendance on the go. Employees can automatically mark their attendance from their mobile phones without standing in the queue.
SMOOTHENING LEAVE MANAGEMENT
Traditional leave approval methods required employees to intimidate their managers for leave days before actually taking it. Employee Self Service portal removes this traditional process by letting employees easily apply for leaves. Also, it notifies the managers whenever an employee applies for leave. Thereby, making the whole process more effective in terms of leave management of employees. The primary benefit for employees is it saves their time as well as for the managers from the unnecessary follow-ups. As a result, the complete cycle for taking a leave becomes less tiresome for the employees as well as the managers.
Other benefits of the employee self service which bridges the gap between management and employees are by automating the processes related to visitor management and cafeteria management. Now, finding the right solution that aids your organization in managing its human resources is a tough choice as various vendors in the market offer various solutions. However, to effectively manage your resources, one must opt for the solution which has got a good history or which is adopted by most organizations. 
Matrix COSEC Employee Self Service is an enterprise-grade people mobility management solution that lets modern organizations automate their employees' time attendance, leaves, and other employees related tasks. So, if you are finding the solution for your organization, these maestros will help you. With serving more than a million people, these experts are best at what they do. Drop them an email at Inquiry@matrixcomsec.com or you can give them a call on their toll-free number 1800258-7747.