Industry : Construction
Users :80+
Devices : 10 Time-Attendance and Access Control Devices
Location :10 across Al-Khobar
SSBS is the trusted technology partner of many leading enterprises in the public & private sectors of Saudi Arabia and the GCC region. They believe in delivering innovative IT solutions and reliable services that help organizations by streamlining operations and boosting innovation while reducing complexity, risk and cost. Their highly skilled experts team up dynamically to tailor complex solutions and deliver them in simple, reliable, and cost-effective ways. SSBS leverages economies of scale and relies on dedicated IT experts to provide headache-free access to the most current hardware, software and technical expertise. They do this at a lower cost than that of running a similar operation inhouse.
The company was dealing with a decentralized system in which they were facing a problem of manual work accession and were unable to manage intra department users. They also had to face the challenges of multiple different systems in a single place. Maintenance of all the different systems requires extra efforts than usual. Another issue was, there were limited possibilities of third-party integrations. They wanted the best quality of the sensor for biometric machines and also wanted good support from suppliers for maintenance.
Experts from Matrix discussed with the client to solve the problem. After the comprehensive discussion, Matrix offered a centralized solution for all the locations. With the Matrix Time-Attendance solution, the client has overcome all the challenges. This solution provides flexibility in terms of connectivity and credentials. In short, the client got multiple connectivity options (3G and WiFi) and multiple credentials (Biometric, PVR and Mobile credential). This solution is compatible with third-party integrations also. So, Matrix Time-Attendance has been proven an all-in-one solution for SSBS.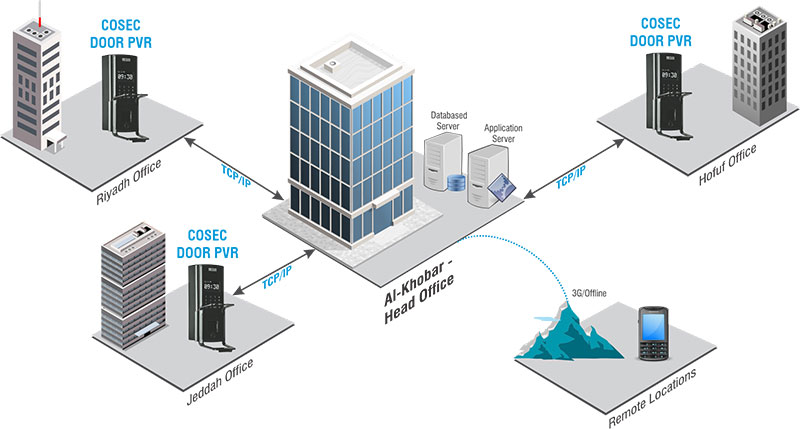 Centralized Time-Attendance Management
High Possibility of Third-party Integration
User-friendly and Fast because of Good Quality Sensor
OEM Support
Phase Two Deployment of Matrix Products for Other Companies of Al-Othman
COSEC DOOR PVR & PVR ES – Palm Vein based Door Controller
COSEC GE & LE PLATFORM – Application Server Platform for basic Time-Attendance
COSEC Identification Server – Server to Run Software
COSEC LE TAM – Time-Attendance Application Software
COSEC ESS – Employee Self-Service Application Software
COSEC APTA – Mobile Application Software