INDUSTRY : Power Transmission
CUSTOMER : Power Transmission Company
LOCATION : Oman
The Power Transmission Company operates and maintains the main electricity transmission network of Oman. The company also shares the responsibility of keeping a balance between the generation and the demand for power in the entire Sultanate of Oman.
To have continuous power flow, it was necessary for the professionals to coordinate regularly. Hence, the Power Transmission Company was looking for a system that established a robust communication link between all the employees, regardless of their location. The company wanted a solution that ensured communication connectivity even if one of the sites is completely down.
Finding a reliable communication solution is always a tedious task, since it requires the diligence to get a communication solution that runs flawlessly with minimum maintenance. After taking tour of the market, they settled down for Matrix, considering the solution's reliability and modular architecture.
The company has two head offices in two different cities of Oman. Head Office-1 is in Muscat and Head Office-2 is in Dhofar. Both the head offices have their own power plants – Head Office-1 has 70 power plants while the Head Office-2 has seven. The company couldn't afford any break in the communication, hence, having a communication backup was their prime requirement. Furthermore, they wanted to elevate communication experience of their employees and hence, they were looking for a system with convenient dialling patterns. A single box capable of providing connectivity on different networks such as PRI, BRI, GSM, CO and IP was one of their requirements. Confidentiality of the communication was a matter of concern for them, so they wanted a secured network for routing all their calls.
Matrix, with the same mission and vision as that of the Power Transmission Company, of offering satisfactory services to the customers, understood the company's requirement. After analysing the whole situation, Matrix, drafted a solution keeping ETERNITY ME – the IP-PBX for Seamless Mobility and Universal Connectivity and SETU VFXTH0016 – VOIP to FXO-FXS Gateways, at the centre.
Multi-location Communication over Fibre – ETERNITY ME
ETERNITY ME was installed at both Head Offices as the main communication solution. Keeping in mind the redundancy requirement of the Power Transmission Company, Matrix provided CPU and Power Supply Redundancy in both the units. Also at Head Office-1, one more ETERNITY ME was installed as a backup solution in another building with the same configuration as the main system. The Power Transmission Company already had fibre architecture at both head offices and between its power stations. Therefore, the systems were connected over VOIP for quick connectivity.
VOIP-FXO-FXS Gateway Solution – SETU VFXTH0016
For continuous communication between the Head Office-1 and power plants, 70 SETU VFXTH0016 Gateways were deployed. Furthermore, to ensure robust connectivity between Head Office-2 and power plants, 7 SETU VFXTH0016 Gateways were installed. These scalable VOIP-FXO-FXS Gateways, with 16 VOIP channels and 16 FXS ports, ensured continuous communication between Head Office-1, Head Office-2 and the power plants.
Multiple Trunks – 16 CO and 8 GSM Trunks
Matrix provided ETERNITY ME, which is a universal architecture IP-PBX with multiple trunk options. As per the usage of Power Transmission Company, the head office's ETERNITY ME was configured with 16 CO and 8 GSM trunk ports. These CO and GSM trunks works as back up trunks in case of internet failure. This configuration catered to the Power Transmission Company's need of 24X7 connectivity at reduced costs. Moreover, the communication convenience was elevated with distinct features such as Call Forward, Call Transfer, Speed Dialling, Hotline Dialling and Easy Dialling Patterns.
GSM CUG Trunks to Connect with Field Employees
As per the requirement, GSM CUG trunks were provided at the Head Office for connecting with the field employees. Matrix ETERNITY ME provides in-skin GSM connectivity up to 64 GSM/3G SIM cards. The smart feature – Least Cost Routing, smartly directs all calls through the best suitable trunk, like mobile calls are routed through GSM cards and landline calls are directed through CO trunks. This intelligent function helps in saving calling costs and in early realization of ROI.
Built-in Advanced Network Security Protocols
Matrix offers built-in advanced network security protocols, which not only secures the network but also provided the assurance of security in the future. The network security protocols supported are: TLS/SRTP Protocols. These protocols offer features such as Password Protected, Trusted IP, Digest Authentication and more, fulfilling the company's need of the secured communications.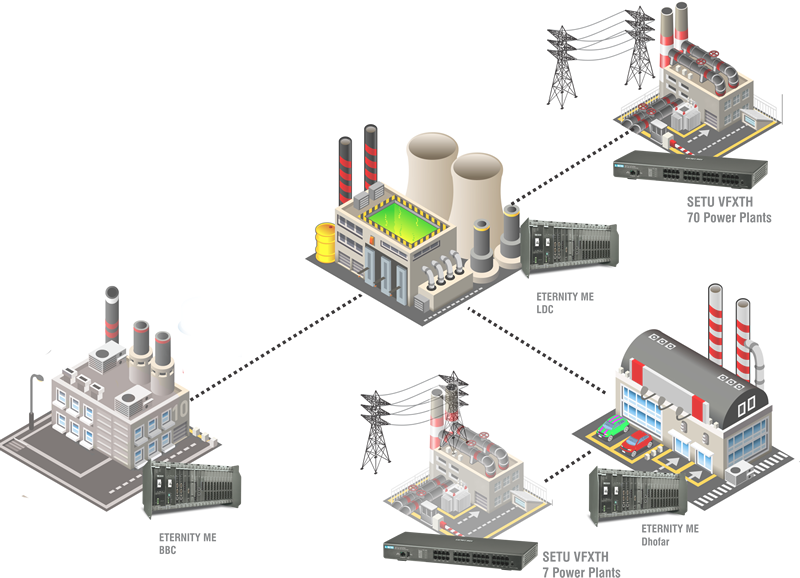 The results were eminent. Matrix provided the complete solution with advanced features and connectivity.
Ensured 24X7 Connectivity
Matrix provided a complete solution as per the requirement of the Power Transmission Company. ETERNITY ME were installed at both the Head Offices. Also, one ETERNITY ME was installed in another building at Head Office-1 that worked as back up in case of any system failure.
Enhanced Communication Convenience
The main challenge in communication convenience was the requirement of same dialling patterns at all the locations. After defining a complete network strategy for fulfilling this requirement, the whole solution was deployed to successfully overcome this challenge. ETERNITY ME and Backup System at the head offices and Gateways at Power Stations provide the same dialling patterns at all locations in such a way that the whole multi-location solution is working under a single network.
Robust Back-up
Both the ETERNITY ME were installed with Redundant Power Supply and CPU cards ensuring robust back-up. However, to ensure continuous communication, ETERNITY ME installed at Head Office-1 had the same configuration as that of the main system.
Improved Employees' Productivity
After deployment of the whole solution, the Transmission Company is closely connected with all its locations. Any issue or emergency is addressed immediately. A user at any location could easily and directly connect with another user at a different location by dialing the respective extension number. Also, the field employees' mobile numbers were configured on extension numbers. The productivity of employees was increased due to 24X7 connectivity and easy connectivity with on-field employees.