The Public Security Department is the law enforcement agency responsible for maintaining public safety, preventing crime, and upholding the law in the region. Established in 1873, the force has been instrumental in maintaining peace and stability in the area, particularly in counter-insurgency operations.
In addition to its core operations, the Department conducts community Services activities to bridge the gap between the Department and the public. The force works closely with other law enforcement agencies to ensure effective coordination and cooperation. Dedicated to upholding the rule of law and protecting the rights of every citizen, it is committed to building a safe and secure environment in the region.
Business Scenario:
The Department is divided into multiple zones, ranges, and districts, with each district housing several Branch Offices. However, monitoring these dispersed stations posed a challenge. The lack of centralized monitoring capabilities at the Head of the Department's office and inadequate infrastructure at the Department branches could have helped with real-time updates and efficient communication.
To address this, the Department aimed to enhance surveillance infrastructure, enable streaming access to all stations, and establish a centralized monitoring system. These efforts would improve coordination, data management, and policing services for the people of the state.
Monitoring challenge: The stations dispersed across multiple locations
Lack of centralized monitoring capabilities at the Head of Department's office
Inadequate infrastructure at the stations for local data recording
Hindered real-time updates and efficient communication across the network
A total of 70 cameras were installed with varying focal lengths and capabilities to cover 20 Branches in the jurisdiction. Based on their requirement the experts suggested High-resolution 5MP Bullet cameras with audio support to capture clearer images and for playback and investigation. The Motorized varifocal lens and PTZ cameras can be maneuvered remotely for better control over the cameras.
To enable the streaming and recording of footage for a longer duration, 8 Channel Network Video Recorders (NVR) with 1 SATA port (Each SATA port supports 10TB storage support) were installed across 20 locations. These NVRs were connected to television screens using HDMI cables, enabling the streaming of live footage at local offices.
For centralized surveillance, all NVRs related to Matrix SATATYA SAMAS use static public IP. The Video Management System was connected to the desktop for monitoring purposes and provided Matrix SATATYA VISION 24×7 surveillance on the go.
The Matrix team also provided training to the officials on how to use the video surveillance infrastructure effectively. They were taught to leverage the system's full potential, including best practices for monitoring, managing, and analyzing data captured by the system.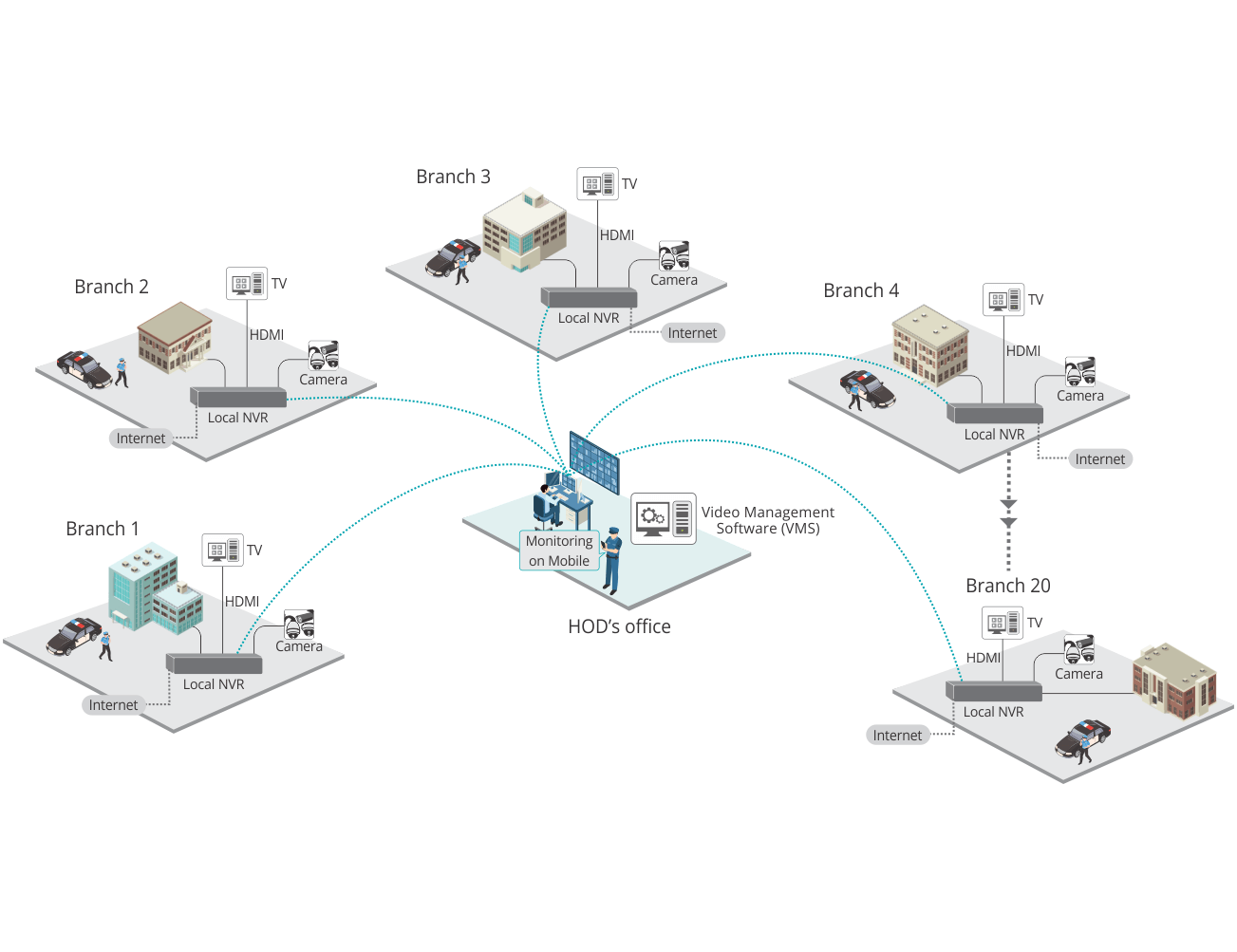 Matrix's Video Surveillance Solution has empowered The Department with real-time updates.
The robust infrastructure enables centralized monitoring, enhancing public safety and quick response to incidents.
Matrix's expertise and technical capabilities have significantly contributed to maintaining law and order in the region.
| | |
| --- | --- |
| SATATYA CIBR50FL40CWP: 15 Nos | 5MP Project Series IR Bullet Camera with 4mm Fixed Lens and Audio Support |
| SATATYACIBR50MVL12CWP: 40 Nos | 5MP Project Series IR Bullet Camera with Motorized Varifocal Lens and Audio Support |
| SATATYA PZCR20ML25CWP: 10 Nos | 2MP Pan-Tilt-Zoom Camera with 25x Optical Zoom and Audio Support |
| Matrix SATATYA NVR0801X: 20 Nos. | 8 Channel NVR with 1SATA Port Support |
| Matrix SATATYA SAMAS Video Management System | with 70IP Camera Licenses and 3 Concurrent User Licenses |