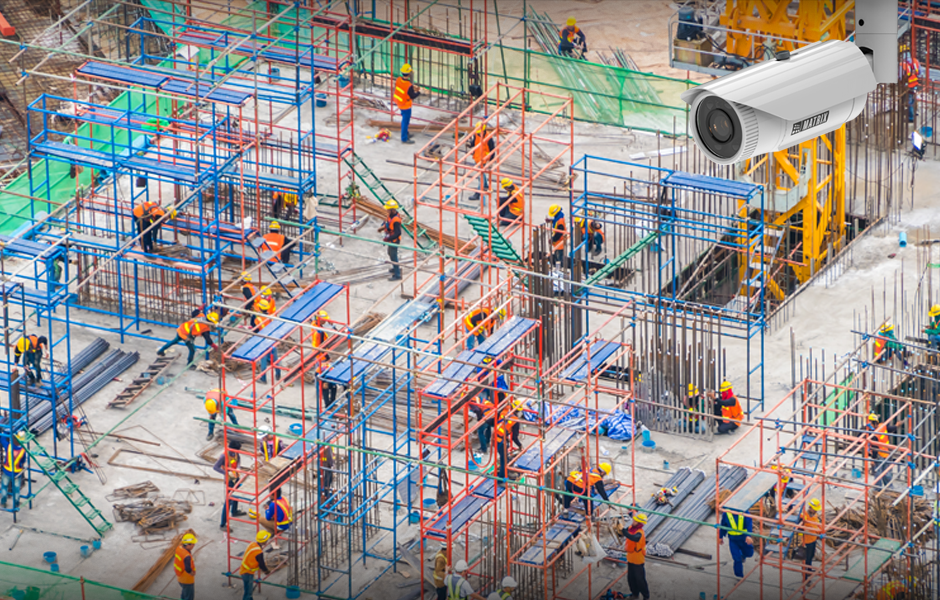 Construction is one of the backbone sectors of the Indian economy. According to IBEF industry reports, the infrastructure sector is on the rise and planned to become the third-largest in the world by 2022. With so many new infrastructure and construction projects on the way, arises the need for their security too. With the security of the workers being of utmost importance, the construction sector cannot overlook security needs like video surveillance. What can make surveillance simpler for construction giants? IP cameras are a great addition to the security needs of construction enterprises and add as an asset to the team just like the workforce. Moreover, these devices act like your non-complaining informer in your premises who help you manage and control the site. In particular, bullet IP cameras are a great addition to your security as they are designed for serious outdoor deployments. But, wait a minute, what makes these cameras worthy of your consideration? Let us learn the benefits of bullet IP cameras for construction projects:
Employee Safety
Hate to be the bearer of bad news, but accidents are common in construction workspaces. Workers falling of the buildings, casualties while working with machines, casualties while working with wires cannot be overlooked. IP cameras comprise intelligent video analytics, especially tripwire analytics. Project managers can get notified immediately based on tripwire analytics when a worker approaches the edge of the building. Bullet IP cameras can be placed on the corners with the configuration of tripwire analytic notifications. If a worker crosses a certain line marked in the camera configuration the project manager will receive an instant notification. Incidents drop down as the manager can instantly inform the workers which also improvises communication between departments.
Measuring Project Progress
You heard it right! Measuring your project performance can be easy when IP cameras are configured with Video Management Software. Most video management software comes with a time-lapse feature that allows you to view the entire day's video footage in much less time. So, you can measure how much progress has been made in the entire day and plan your project accordingly. Matrix's Video Management Software allows you to view the entire day's footage with its time-lapse feature. Again, the IP cameras act as a deterrent on your behalf and maintain compliance amongst workers.
Managing Inventory
Another straight benefit of bullet IP cameras is they help you manage your inventory. With multiple access points to raw material at the construction premises incidents of raw material, theft is not new. IP cameras over here act as a deterrent on your behalf and help you manage your inventory in time. Moreover, intelligent video analytics like motion detection helps the site head get instant notifications when any motion is detected nearby the raw materials post working hours. Thereby, inventory management becomes easy. Also, video surveillance establishes a clear understanding of the site thereby empowering management to take decisions.
Drops Down Crimes
Yes! Construction sites are a primary target of vandals. Moreover, they tend to destroy the equipment and machinery than stealing them. Eventually, adding up in the operational costs. Bullet IP cameras aid you in such instances by immediately notifying you about intruders who are entering the site after shift hours. Again, they act as a piece of evidence when the intruders are caught thereby helping you in prosecuting them. Not only for vandals but also if someone is caught stealing any kind of material from the site. These cameras help you in investigating such instances without any complications.
By now, you might have clearly understood that bullet IP cameras are an important addition. So, how can you select the right camera? Well, the market is filled with a plethora of security cameras from various companies offering multiple benefits. But, how to find the correct camera offers you multiple advantages and isn't exorbitant. Here, Matrix Security Solutions come into the picture. Offering products with multiple advantages like saving your bandwidth, storage, crystal clear low-light performance, intelligent video analytics, and much more. Our bullet IP cameras come in two variants i.e. Professional Series and Project Series. Speak with our experts for further information on our toll-free number 1800 258 7747 or write to us at Inquiry@MatrixComSec.com